You are bidding on * live bare root seedlings with vigorous root systems * inches tall with * leaves born and grown in Hawaii.
Height: over 40 ft. (12 m)
Hardiness: USDA Zone 9b: to -3.8 °C (25 °F) The Jackfruit is mildly hardy, surviving short frosts and temperatures to 28 °F for brief periods. Young trees will be killed by any frost.
Sun Exposure: Sun to Partial Shade
Bloom: Inconspicuous/none, Blooms repeatedly
Foliage: Evergreen
Other details:
Average Water Needs; Water regularly; do not overwater
This plant is suitable for growing indoors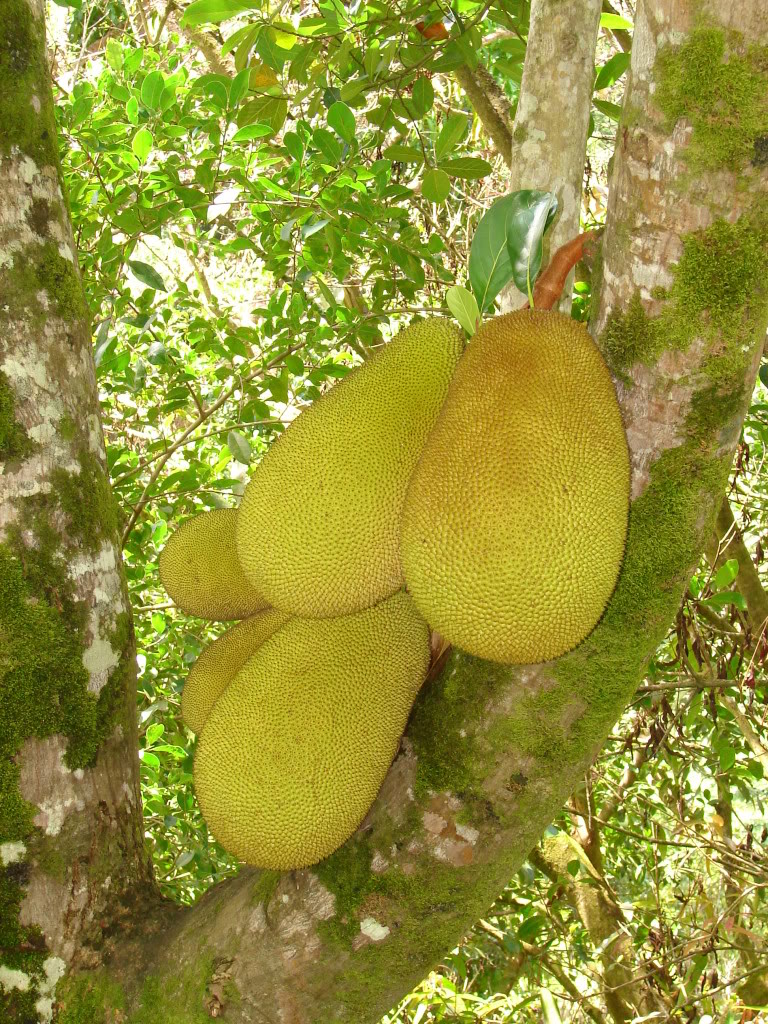 Jakfruit is the largest tree-borne fruit in the world, reaching 80 pounds in weight and up to 36 inches long and 20 inches in diameter. The Jackfruit is an attractive, wind resistant tree from India that bears large green fruits directly from its main branches and trunk.
The leaves are oblong, oval, or elliptic in form, 4 to 6 inches in length, leathery, glossy, and deep green in color. Juvenile leaves are lobed.
The Jakfruit is oblong in shape, its skin is greenish in color but turns yellowish when ripen. The skin is dimpled,soft and slightly bouncy to the touch.
Jakfruit also has its own peculiar strong aroma,strong but not as strong as the durian and the chempedak. A ripe Jakfruit is easy to be cut open. Most people chop it into cylindrical rings or triangular cubes for ease of handling.
When cut open, seeds of the Jakfruit will be exposed in the yellowish flesh, sticking to a rod-like core. Covering the seeds are grass-like soft fibers which are also yellow in color, sometimes making it hard to see the seeds, and you will have to use your fingers to dig inside to find the seeds. The flesh of the Jakfruit is very soft and very sweet.
The exterior of the compound fruit is green or yellow when ripe. The interior consists of large edible bulbs of yellow, banana-flavored flesh that encloses a smooth, oval, light-brown seed. The seed is 3/4 to 1-1/2 inches long and 1/2 to 3/4 inches thick and is white and crisp within. There may be 100 or up to 500 seeds in a single fruit, which are viable for no more than three or four days. When fully ripe, the unopened Jackfruit emits a strong disagreeable odor, resembling that of decayed onions, while the pulp of the opened fruit smells of pineapple and banana.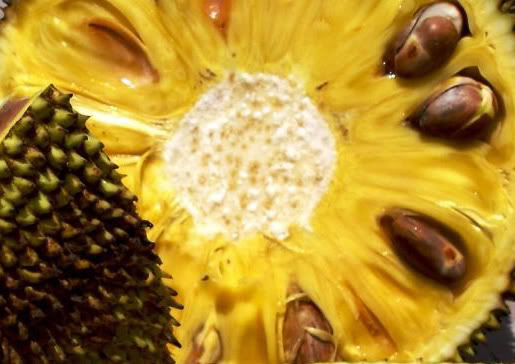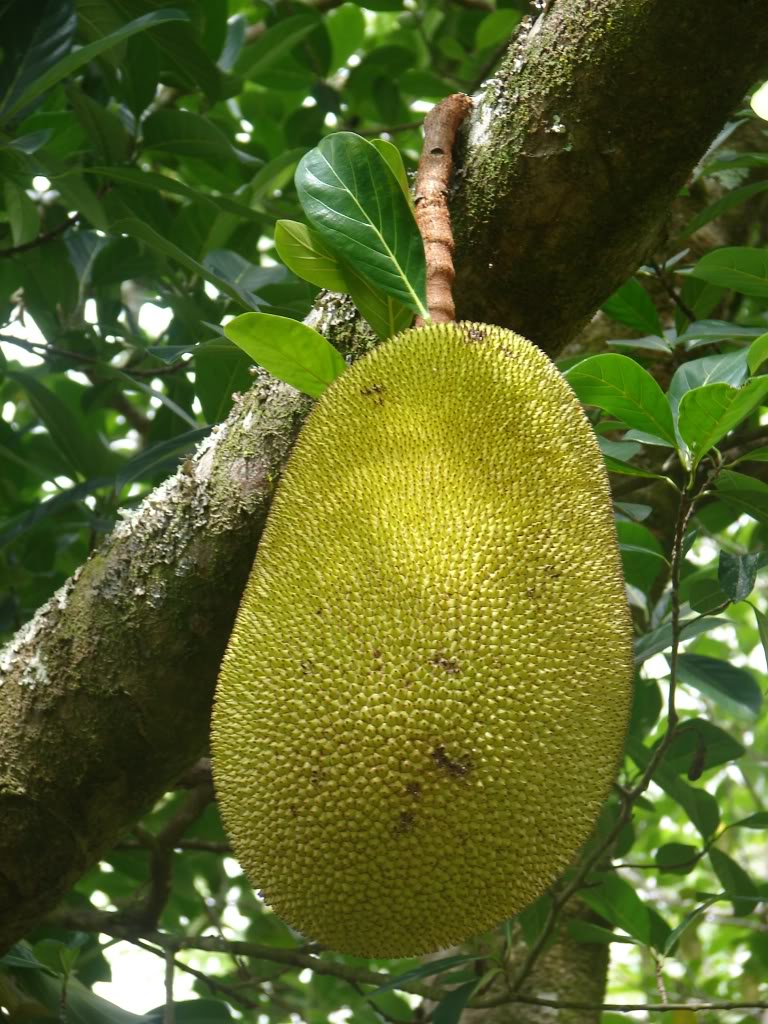 The Jakfruit tree should have a well-drained, frost-free location that is sunny and warm. The Jakfruit flourishes in rich, deep soil of medium or open texture. Planting on top of an old compost heap would be ideal. The faster one can force a tropical plant to grow, the better the chance of keeping it alive.
The tree needs the best drainage and cannot tolerate "wet feet". The tree will not tolerate drought. Water frequently during warm months and warm periods in cooler months. Less water is necessary during colder weather.
The Jakfruit's fertilization requirements are not known, but frequent, weak solutions of all-purpose fertilizer will speed the plant's growth without causing burn. In the regions where it is commonly grown, it succeeds without much care from man, the sole necessity being abundant moisture.
Although mature Jakfruit trees will take several degrees of frost, it is prudent to provide young plants with overhead protection


Shipping

We ship via USPS Mondays-Wednesday with Delivery confirmation.
All live plants are Inspected By USDA Plant Inspectors before they are shipped to insure you get healthy pest free plants and seeds.

All live plants are shipped bare-root wrapped in moist sphagnum moss to ensure the plant's healthy transit to you.

ATTENTION INTERNATIONAL BIDDERS!
We can ship live plants to the US only. All International shipments are at Buyer's Risk.
INTERNATIONAL SHIPPING ON LIVE PLANTS is available only under these conditions! All international orders are shipped at the buyers risk (shipped with or without documents) and no refunds or replacements are offered for Dead On Arrival, loss, confiscation, Customs Seizure, unanticipated charges, etc.
We ship Seeds Internationally.
The additional charge for any phytosanitary certificate is not included in this offer.
For foreign customers, please check your laws concerning permitting and customs, additional shipping and handling costs may apply.



Payment

We accept online payments only through PayPal, Cash payments are only acceptable for in-person payments and cash-on-delivery (COD). Cash payment can not be sent through the mail.
Please only one Paypal payment. SO THE COMBINED SHIPPING RULE WILL CAN BE USED. Multiple paypal payments are NOT eligible for discounts.
We will ship once a week - ON or BEFORE WEDNESDAYS, because of the special stamps needed to ship plants and cuttings to you. This can only be done at the Dept. of Agriculture. If payments are not met before that MONDAY, your items will be shipped the following week and lose the combined discount opportunity.
Non-paying bidders may receive negative feedback and will be reported as an unpaid item to eBay.

COMBINED SHIPPING POLICY
INTERNATIONAL SHIPPING is not included in this offer.
See INTERNATIONAL SHIPPING ON LIVE PLANTS
We will combine shipping for auctions won on the same week paid with same paypal payment.
This policy is good for all items bought and paid for in the week ending MONDAY.
Payment must be received within 7 days of the auction ending.
Combined Discounts Won Auctions
For 2-3 winning auctions, the combined discount is 10% of the total Shipping and Handling charges. For 4-7 winning auctions, the combined discount is 20% of the total Shipping and Handling charges. For 7+ winning auctions, the combined discount is 30% of the total Shipping and Handling charges.

As each order is packed and prepared separately you will pay the quoted S/H charges individually per item. If you buy the same species in that item it does calculate out the discount (i.e.: additional item $3.61). My stores' combined shipping is built in for same items rather than a varied selection. Includes postage, USDA certification and inspection, proper packing and delivery to Airport for prompt delivery. I can't really change any of these. If you want one of this and one of that, it gets hard to discount much as each different species requires it's own prep & packing, then at USDA each has to be unwrapped and inspected then repacked. USDA requires me to clean and prepare every last piece before we drive them to the Inspection Station on the other side of the island. It takes my wife and I, a day to pack items and get ready to ship. The whole next day we drive around the island and get inspected (2-3 hours), then drive to the Airport Post Office to drop off. It takes the same work with the same type item if you can understand.