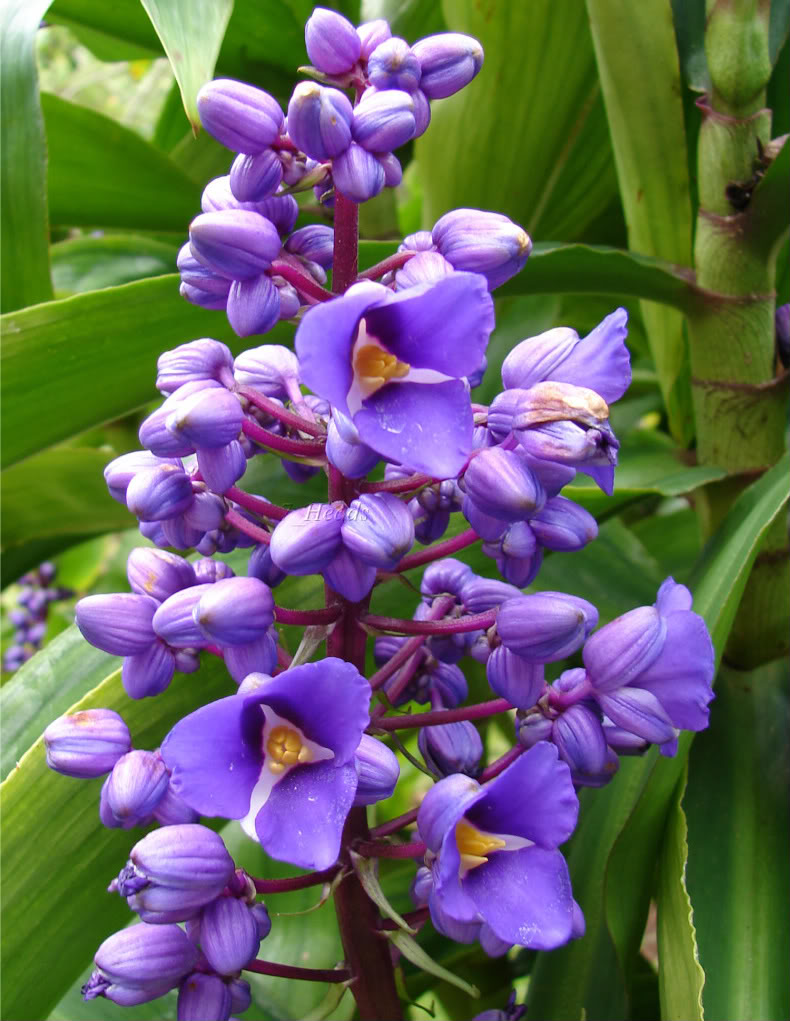 Dichorisandra thyrsiflora
Native to Brazil
Blue Gingers are cultivated for their striking blue flowers, but the foliage alone is gorgeous.. The flowers have three light blue sepals, three dark blue petals, and six stamens. The inflorescence is a terminal thyrse, a panicle with an indeterminate central axis. As long as conditions are conducive to blooming, the thyrse will continue to expand upward adding flower buds at the top.
Dichorisandra thyrsiflora, 'Blue Ginger' - gorgeous blue flowers not a true ginger.
Blue Ginger or Dichorisandra thyrsiflora is a wonderful, tropical-looking plant which resembles ginger in growth and habit. This plant grows very well in the wild in Hawaii.
The Blue Ginger (Dichorisandra thyrsiflora J.C. Mikan) is a member of the family Commelinaceae, the family of spiderworts. Blue Ginger is actually a relative of the wandering Jew plant. The stems grow to a 3-6 feet in height. The leaves are arranged spirally around the stem similar to Costus gingers.

Requires consistently moist soil, water regularly and fertilize monthly in the growing season.

Plant in a enriched soil high in organic matter.

Excellent for the greenhouse and containers.

Frost sensitive not cold tolerant.

Height: 6-8 ft. (1.8-2.4 m)

Hardiness: USDA Zone 9a: to -6.6 °C (20 °F)

Sun Exposure: Light Shade
photo of item
You are bidding on fresh cut canes with 2-3+ nodes, 4-8 inches long without leaves born and grown in Hawaii.


Shipping

All live plants are Inspected By USDA Plant Inspectors before they are shipped to insure you get healthy pest free plants and seeds.
We will ship once a week - ON or BEFORE WEDNESDAYS, because of the special stamps needed to ship plants and cuttings to you. This can only be done at the Dept. of Agriculture. If payments are not met before that MONDAY, your items will be shipped the following week and lose the combined discount opportunity.

All live plants are shipped bare-root wrapped in moist sphagnum moss to ensure the plant's healthy transit to you.
ATTENTION INTERNATIONAL BIDDERS!
We can ship live plants to the US only. See INTERNATIONAL SHIPPING ON LIVE PLANTS

INTERNATIONAL SHIPPING ON LIVE PLANTS is available only under these conditions! All international orders are shipped at the buyers risk (shipped with or without documents) and no refunds or replacements are offered for Dead On Arrival, loss, confiscation, Customs Seizure, unanticipated charges, etc.
We now can ship Seeds internationally.
International bidders please email for shipping and handling costs. There will be an additional $50.00 charge for the phytosanitary certificate if requested.
SEED ORDERS OVER US$350 can request and will receive a
FREE PHYTOSANITARY CERTIFICATE.
For foreign customers, please check your laws concerning permitting and customs, additional shipping and handling costs may apply.
ATTENTION ARIZONA RESIDENTS! There will be an additional $50.00 charge for the extra handling of cuttings and rooted plants at the Department of Agriculture.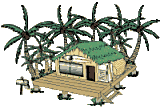 Payment

We accept online payments only through PayPal, Cash payments are only acceptable for in-person payments and cash-on-delivery (COD). Cash payment can not be sent through the mail.
Please only one Paypal payment. SO THE COMBINED SHIPPING RULE WILL CAN BE USED.

COMBINED SHIPPING POLICY
INTERNATIONAL SHIPPING is not included in this offer.
This policy is good for all items bought and paid for in the week ending MONDAY.
We will combine shipping for auctions won on the same week paid with same paypal payment.
Combined Discounts Won Auctions
For 2-3 winning auctions, the combined discount is 10% of the total Shipping and Handling charges. For 4-7 winning auctions, the combined discount is 20% of the total Shipping and Handling charges. For 7+ winning auctions, the combined discount is 30% of the total Shipping and Handling charges.
The additional charge for any phytosanitary certificate is not included in this offer.

As each order is packed and prepared separately you will pay the quoted S/H charges individually per item. If you buy the same species in that item it does calculate out the discount (i.e.: additional item $3.61). My stores' combined shipping is built in for same items rather than a varied selection. Includes postage, USDA certification and inspection, proper packing and delivery to Airport for prompt delivery. I can't really change any of these. If you want one of this and one of that, it gets hard to discount much as each different species requires it's own prep & packing, then at USDA each has to be unwrapped and inspected then repacked. USDA requires me to clean and prepare every last piece before we drive them to the Inspection Station on the other side of the island. It takes my wife and I, a day to pack items and get ready to ship. The whole next day we drive around the island and get inspected (2-3 hours), then drive to the Airport Post Office to drop off. It takes the same work with the same type item if you can understand.
We ship via USPS Mondays-Wednesday with Delivery confirmation.
Payment must be received within 7 days of the auction ending.
Non-paying bidders may receive negative feedback and will be reported as an unpaid item to eBay.


my dog Taz will fetch your email to me
If you are dissatisfied with the item, please contact me
before leaving a negative or neutral comment.
I want you to be satisfied.
Mahalo iâ `oe no ke kipa `ana mai. E kipa mai hou!
Mahalo & Aloha!!