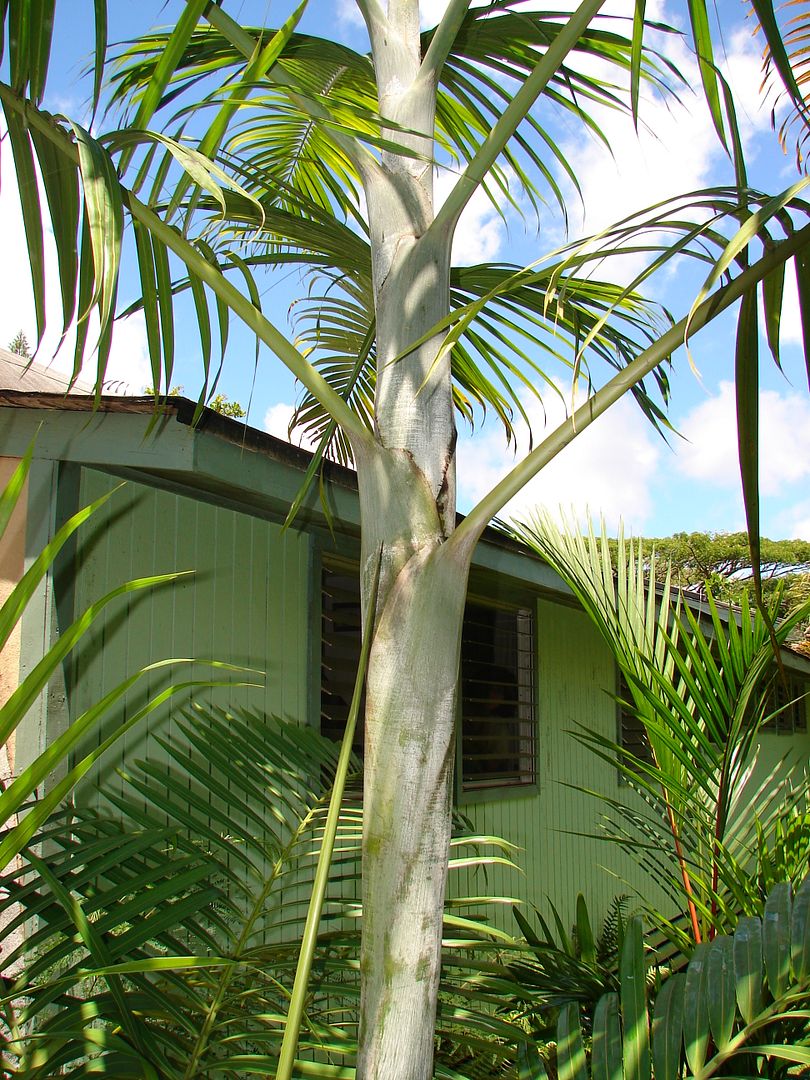 Mpapindi Palm
Common Names:
Pemba Palm
Distribution & Habitat:
Found only in rainforest on Pemba, a small island off the coast of Tanzania in eastern Africa.
Description:
An attractive, medium sized, clustering palm to about 30+ feet tall, with slender, smooth, strongly ringed trunks. It has dark green, elegant, Pinnate, somewhat plumose leaves with close, evenly arranged leaflets, up to 8 feet long.
General:
Not often seen in cultivation, but should be.
Culture:
Sunny, moist, but well drained position in the tropics or sub-tropics. Fast growing, but slightly frost tolerant. Prefers shade as a youngster, but grows into full sun. Pemba Palm prefers partial shade or partial sun to full sun; soil should be well drained. Requires consistently moist soil, Rich and sandy; do not let dry out between waterings.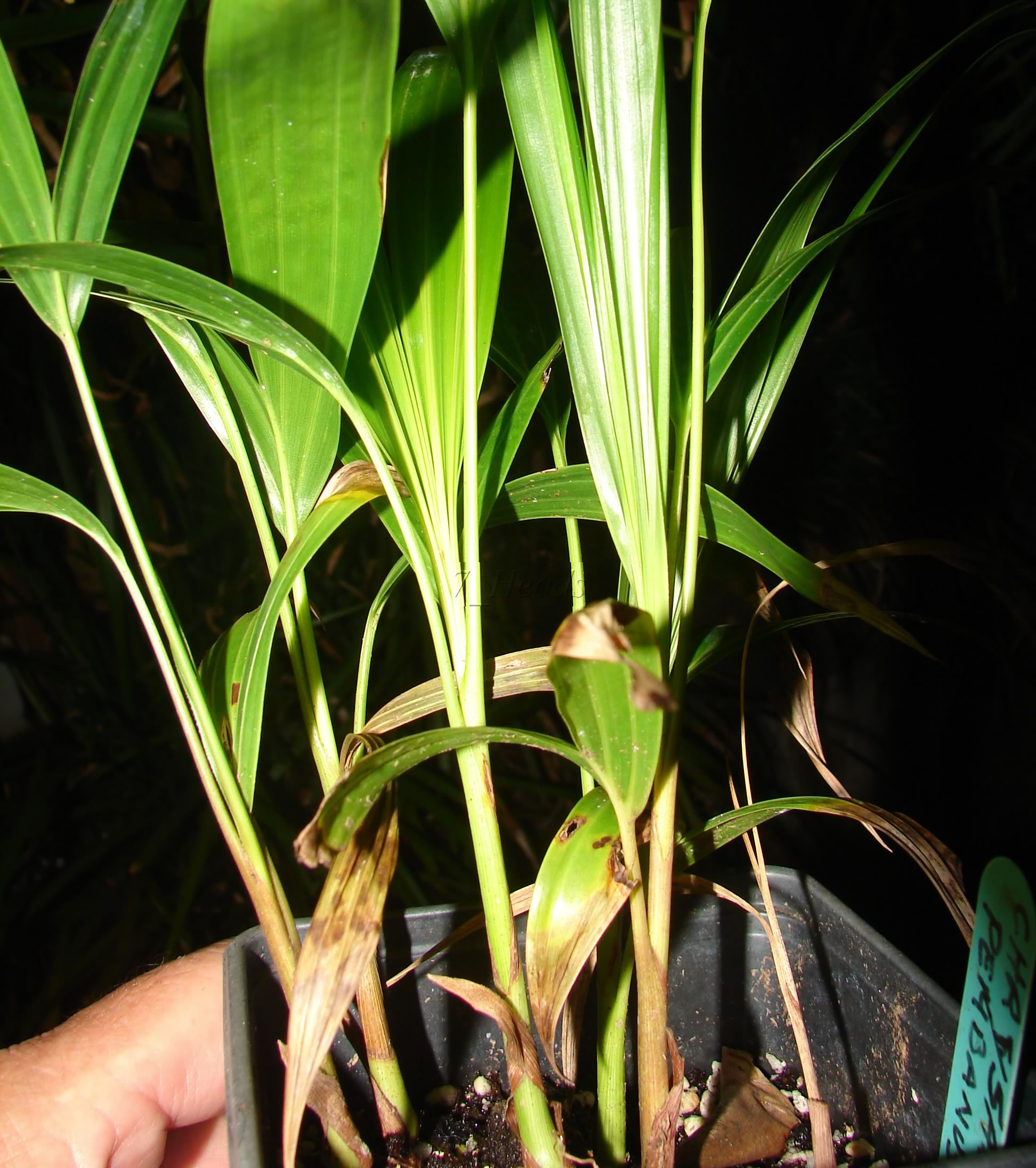 photo of multiple similar items
Dypsis pembanus
Ready to be put in a 1 to 3 gallon container.
Healthy & Fresh
Slender solitary palm tree
Landscape palm up to 35 feet high.
The leaves are dark green, very large with drooping points.

The fruits are black. Fruit are 1.2 cm long, and with black seeds at maturity.
Inflorescence: Branched, born below the crownshaft.
Uses: excellent landscape specimen.
Height: 30-40 ft.
Hardiness: USDA Zone 10a-11: to 30 °F)
Sun Exposure: Full Sun to Partial Shade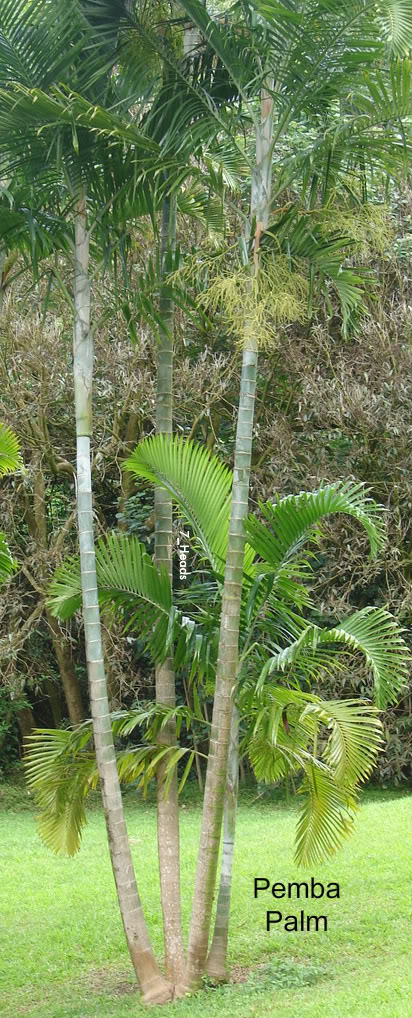 Of the tribe Arecceae,
it is also known by the botanic name
Dypsis pembanus
The Mpapindi Palm is a stately, clumping rare palm from Pemba, a small island off the coast of Tanzania. This is a Macarthur palm on steroids. It has medium sized, slightly arching dark green leaves.
Dypsis pembanus has a thin light green to whitish trunk with white growth rings. It is a moderate to fast grower. fast-growing and reasonable cold-hardy. The Mpapindi Palm is generally regarded the fastest Dypsis, and it survived 24F-26F. It is a great palm for Southern California.
A medium sized palm that suckers but also can be found single trunked. Looks look the Macartur Palm on steriods.
A real collector palm.
A rather easy species to grow, Pemba Palm will germinate readily at 20°C and grow fast enough. A rich and well drained soil will be appreciated, as well as a warm and sunny exposure. Light shade/full sun, well drained but lots of water. Medium fast grower, salt/wind tolerant. Young plants make good subjects as indoor plants.


Shipping

We ship via USPS Mondays-Wednesday with Delivery confirmation.
All live plants are Inspected By USDA Plant Inspectors before they are shipped to insure you get healthy pest free plants and seeds.

All live plants are shipped bare-root wrapped in moist sphagnum moss to ensure the plant's healthy transit to you.

ATTENTION INTERNATIONAL BIDDERS!
We can ship live plants to the US only. All International shipments are at Buyer's Risk.
INTERNATIONAL SHIPPING ON LIVE PLANTS is available only under these conditions! All international orders are shipped at the buyers risk (shipped with or without documents) and no refunds or replacements are offered for Dead On Arrival, loss, confiscation, Customs Seizure, unanticipated charges, etc.
We ship Seeds Internationally.
The additional charge for any phytosanitary certificate is not included in this offer.
For foreign customers, please check your laws concerning permitting and customs, additional shipping and handling costs may apply.



Payment

We accept online payments only through PayPal, Cash payments are only acceptable for in-person payments and cash-on-delivery (COD). Cash payment can not be sent through the mail.
Please only one Paypal payment. SO THE COMBINED SHIPPING RULE WILL CAN BE USED. Multiple paypal payments are NOT eligible for discounts.
We will ship once a week - ON or BEFORE WEDNESDAYS, because of the special stamps needed to ship plants and cuttings to you. This can only be done at the Dept. of Agriculture. If payments are not met before that MONDAY, your items will be shipped the following week and lose the combined discount opportunity.
Non-paying bidders may receive negative feedback and will be reported as an unpaid item to eBay.

COMBINED SHIPPING POLICY
INTERNATIONAL SHIPPING is not included in this offer.
See INTERNATIONAL SHIPPING ON LIVE PLANTS
We will combine shipping for auctions won on the same week paid with same paypal payment.
This policy is good for all items bought and paid for in the week ending MONDAY.
Payment must be received within 7 days of the auction ending.
Combined Discounts Won Auctions
For 2-3 winning auctions, the combined discount is 10% of the total Shipping and Handling charges. For 4-7 winning auctions, the combined discount is 20% of the total Shipping and Handling charges. For 7+ winning auctions, the combined discount is 30% of the total Shipping and Handling charges.

As each order is packed and prepared separately you will pay the quoted S/H charges individually per item. If you buy the same species in that item it does calculate out the discount (i.e.: additional item $3.61). My stores' combined shipping is built in for same items rather than a varied selection. Includes postage, USDA certification and inspection, proper packing and delivery to Airport for prompt delivery. I can't really change any of these. If you want one of this and one of that, it gets hard to discount much as each different species requires it's own prep & packing, then at USDA each has to be unwrapped and inspected then repacked. USDA requires me to clean and prepare every last piece before we drive them to the Inspection Station on the other side of the island. It takes my wife and I, a day to pack items and get ready to ship. The whole next day we drive around the island and get inspected (2-3 hours), then drive to the Airport Post Office to drop off. It takes the same work with the same type item if you can understand.