COLORFUL 'Miss ANDREA' Ti LIVE Plant Hawaiian Cordyline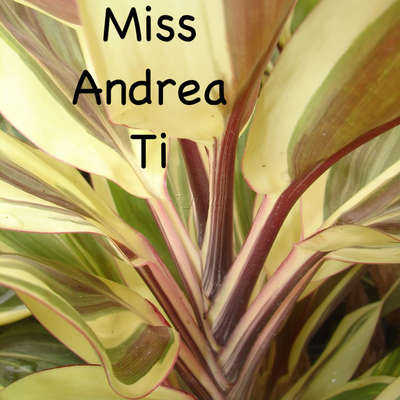 Click Here. Double your traffic. Get Vendio Gallery - Now FREE!
Hawaiian Ti Plant

Cultivar name:

Miss Andrea Ti

Native to Southeast Asia, Australia, New Zealand and larger Pacific Islands as Hawaii

Cordyline terminalis

(core-dee-line' ter-mi-nall' iss)

Ti Tree, Good Luck Tree

You are bidding on one 4-8 inch potted small plant.

photo of similar item
Cultivar name:

Miss Andrea Ti

One of the most well-loved tropical foliage plants, Ti (rhymes with "tea") is most often associated with Hawaii and the South Pacific. Best known for its large, colorful leaves which grow from the stem tips in a circular, star-like pattern.

Cordyline Ti plants achieve a stunning tropical look indoors or out. This colorful variable species are among the most breath taking foliage plants. These spectacular plants come in many cultivars with glowing colors of red, green, purple, maroon, rose, pink and yellow. With a vast range of colors and sizes, Ti plants or cordylines are crowned as "King of Tropical Foliage".

Ti plant's relative ease of growing has made Cordylines popular with gardeners, landscapers and collectors alike throughout the world. Cordyline Ti plants are popular because Ti cultivars provide an endless array of various shades of purple, maroon, rose, pink and yellow, as well as green. Intense brightness of many of the colors, including green, under good environmental conditions may be so vivid that plants appear fantastic plastic created. Some cultivars also may be mostly dark purple or maroon with outrageous highlights of rose, yellow or pink common to that cultivar.

Considered good luck to plant around the perimeter of your property to prevent Madame Pele's lava flows from overrunning your home or just to ward off evil spirits.

Growing Environment:

Cordyline Ti plants enjoy regular water and warm temperatures. Grown in shade, particularly in warmer climates. Protect Ti plants from low humidity or dry winds outdoors. Cordyline Ti plants can be regrown from roots in cold climates. They thrive as a houseplants in containers. Ti plants or Cordylines, are extremely popular worldwide for their intense leaf colors and leaf shapes producing interest and contrasts even in deep shade.


Ti leaves are also used in Hawaii to wrap food bundles that will then be steamed or boiled. The food wrapped in leaves is called a lau-lau (lau is the Hawaiian for leaf). Cordyline Ti plants are also used for making simple woven leis and they are made into long strips to use in skirts for dancing hula.....the misnamed grass skirt, is usually made of Ti leaves.

Cordyline terminalis

(core-dee-line' ter-mi-nall' iss)

Hawaiian Ti Plant

Ti Tree, Good Luck Tree

Miss Andrea Ti

Color Control

Color intensity appears to be controlled by temperature, light and fertilizer levels. Levels of carbohydrates are low during summer when night temperatures are high and poor color often occurs during this period. Low light intensity, especially during summer, and high fertilizer levels also reduce color intensity. Best color intensity will occur during the period November through May, if suggested light and fertilizer levels are utilized. During periods of poor coloration, some improvement can often be obtained by increasing light intensity and reducing temperature.

Light levels can affect appearance of multi-colored ti cultivars. Cultivars like Baby Doll which normally have dark red leaves with a narrow medium red to pink margin, will begin to produce leaves with wider pink margins as the production light intensity is reduced. Suggested level is about 3000 to 3500 ft-c, which will produce plants with good coloration.

Good growth can be obtained with either liquid or slow-release fertilizers at the rate of 2.9 pounds of actual nitrogen per 1000 square feet per month from a 3-1-2 or similar ratio product. Where plants are subject to heavy rainfall or frequent irrigation, the fertilizer level may need to be increased.

The potting medium utilized for ti plant should be of good quality, and provide excellent aeration and water-holding capacity. Amendments should include a low to moderate level of micronutrients such as 1 lb Micromax/yd3 and sufficient dolomite to adjust medium pH to 5.5 to 6.5. The higher pH has been shown to be beneficial in reducing fluoride toxicity.

Suggested air temperatures for best growth are 65°F minimum to 95°F maximum. Ti can tolerate lower and higher temperatures, but growth rate will be reduced.




Family: Agavaceae, Agave

CULTIVARS

Many of the small plants used in small combination planters are started from seed and are highly variable in color, from green to deep maroon and variegated. Most of the named cultivars in the trade are selections made from unique and attractive seed-grown plants. A few of the named cultivars now popular in the United States are listed below:

`Baby Doll' is a small-leaved cultivar with maroon leaves trimmed with a pink edge. a dwarf cultivar with unusually marked and colored very narrow foliage.

`Firebrand' is a relatively large-leaved cultivar with dark burgundy foliage.

`Kiwi' is a very beautiful Ti originating in New Zealand, popular medium to small-leafed variety with a fine margin trace of red around a green leaf with an irregular internal pattern of yellow-green, yellow and ivory stripes which follow the leaf veins. There are also a few fine red lines in the internal pattern on some leaves. `Kiwi' is of intermediate size 5' with a base color of olive green, heavily striped with yellow, leaves are margined with red, which sometimes spreads into beautiful red streaks.

"Purple Prince" is a glowing purple and dark red foliage, make this little gem a truly great cordyline for container or garden. Foliage is absolutely striking!

'Red Sister' A very easy to grow variety with splendid foliage shocking pink, red and maroon , medium height 5'-8'

Foliage: generally strap-shaped, deep green or variegated in cultivars, from erect, suckering and unbranched stems

Flowers: insignificant or seldom seen indoors, white to purple in loose panicles

Cold Hardiness: USDA Zone 9b: to -3.8 °C (25 °F)

Sun Exposure: Sun to Partial Shade
Light Shade

Height x width: 3-6' x 3-8' (to 15' if ideal, outdoors)

Pests and Problems: leaf spots, bacterial soft rot, root rots, mealy bugs, scales, spider mites; brown leaf margins indicate dry air or fluoride excess, leaf spots from wet foliage

Growth habit, uses: A woody perennial growing to 4-6ft, but as high as 10-12ft. colorful foliage indoors

Other interest: listed by some references as fruticosa;; native peoples use the species for fiber and food (roots); from the Greek kordyle meaning club, referring to the thickened root; common name is usually pronounced as in "tie", although as in "tea" is supposedly correct; often confused with Dracaena

Light: bright

Temperature: warm

Watering: evenly moist

Fertility: high

Humidity: humid

Soil: well-drained, average

Other culture: lower leaves drop as plant grows, requiring air layering or similar to renew and keep lower; does not tolerate salt spray on foliage

Propagation: stem cuttings, division, air layering, tip cuttings (bottom trunk will regrow), stem section cuttings

Polynesian Produce Stand

All good things take time, so I grow my plants and rare palms in my ebay store.

Much more to check out or just get a little education on in my store.

Shipping

We ship via USPS Mondays-Wednesday with Delivery confirmation.

All live plants are Inspected By USDA Plant Inspectors before they are shipped to insure you get healthy pest free plants and seeds.

All live plants are shipped bare-root wrapped in moist sphagnum moss to ensure the plant's healthy transit to you.

ATTENTION INTERNATIONAL BIDDERS!

We can ship live plants to the US only. All International shipments are at Buyer's Risk.

INTERNATIONAL SHIPPING ON LIVE PLANTS is available only under these conditions! All international orders are shipped at the buyers risk (shipped with or without documents) and no refunds or replacements are offered for Dead On Arrival, loss, confiscation, Customs Seizure, unanticipated charges, etc.

We ship Seeds Internationally.

The additional charge for any Phytosanitary certificate is not included in this offer.

For foreign customers, please check your laws concerning permitting and customs, additional shipping and handling costs may apply.

Payment

We accept online payments only through PayPal, Cash payments are only acceptable for in-person payments and cash-on-delivery (COD). Cash payment can not be sent through the mail.

Please only one Paypal payment. SO THE COMBINED SHIPPING RULE WILL CAN BE USED. Multiple paypal payments are NOT eligible for discounts.

We will ship once a week - ON or BEFORE WEDNESDAYS, because of the special stamps needed to ship plants and cuttings to you. This can only be done at the Dept. of Agriculture. If payments are not met before that MONDAY, your items will be shipped the following week and lose the combined discount opportunity.

Non-paying bidders may receive negative feedback and will be reported as an unpaid item to eBay.

COMBINED SHIPPING POLICY

INTERNATIONAL SHIPPING is not included in this offer.

See INTERNATIONAL SHIPPING ON LIVE PLANTS

We will combine shipping for auctions won on the same week paid with same paypal payment.

This policy is good for all items bought and paid for in the week ending MONDAY.

Payment must be received within 7 days of the auction ending.

Combined Discounts Won Auctions

For 2-3 winning auctions, the combined discount is 10% of the total Shipping and Handling charges. For 4-7 winning auctions, the combined discount is 20% of the total Shipping and Handling charges. For 7+ winning auctions, the combined discount is 30% of the total Shipping and Handling charges.

As each order is packed and prepared separately you will pay the quoted S/H charges individually per item. If you buy the same species in that item it does calculate out the discount (i.e.: additional item $3.61). My stores' combined shipping is built in for same items rather than a varied selection. Includes postage, USDA certification and inspection, proper packing and delivery to Airport for prompt delivery. I can't really change any of these. If you want one of this and one of that, it gets hard to discount much as each different species requires it's own prep & packing, then at USDA each has to be unwrapped and inspected then repacked. USDA requires me to clean and prepare every last piece before we drive them to the Inspection Station on the other side of the island. It takes my wife and I, a day to pack items and get ready to ship. The whole next day we drive around the island and get inspected (2-3 hours), then drive to the Airport Post Office to drop off. It takes the same work with the same type item if you can understand.

my dog Taz will fetch your email to me

If you are dissatisfied with the item, please contact me

before leaving a negative or neutral comment.

I want you to be satisfied.

Mahalo iâ `oe no ke kipa `ana mai. E kipa mai hou!

Mahalo & Aloha!!
$19.99
Shipping Carriers
Destination: United States

Carrier
Method
Shipping Cost
Per additional Item
STANDARD
Standard
$0.00
$0.00

Destination: Worldwide

Carrier
Method
Shipping Cost
Per additional Item
STANDARD
Standard
$7.61
$4.61
Payment Method
Type
Instructions to Buyer
Paypal
null