LIVE PLANT Malayan Dwarf Golden RARE COCONUT PALM Tree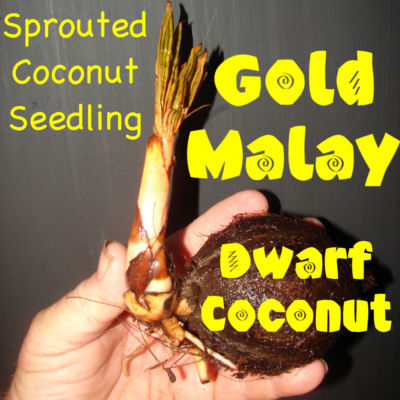 Click Here. Double your traffic. Get Vendio Gallery - Now FREE!
Golden Malayan Dwarf Coconut Palm Seedling

Cocos nucifera var. Malayan

Family Name: Arecaceae

Scientific Name: Cocos nucifera

You are bidding on * live bare root seedlings with starting root systems * inches tall with bifid leaves born and grown in Hawaii.

Hardiness:
USDA Zone 10b: to 1.7 °C (35 °F)
USDA Zone 11: above 4.5 °C (40 °F)

Sun Exposure:
Full Sun

photo of similar item

photo of similar item

This beautiful palm embodies the romance of the tropics and is also of great economic value. There are many varieties, from dwarfs to the familiar tall growing types that reach 50-80 ft. All have graceful gray trunks topped by a crown of pinnately compound yellow-green leaves. Each leaf is 12-15 ft long with many leaflets. Malayan Gold Dwarf Coconut is a short palm tree up to 45 feet in height, but usually much less.

Most of us in the U.S. are familiar with the coconut palm from resorts in Hawaii, Florida and the Caribbean. Since falling coconuts can pose a serious (sometimes fatal!) health hazard to guests, they are often removed by resort managers hoping to avoid injuries and lawsuits. Honolulu regularly has tall coconut trees trimmed due to a lawsuit. This is a solution to this problem. Malayan Gold Coconut Trees stay short and thin. It bears coconuts are able to be picked with a short ladder.

The large spirally arranged leaves are up to 12 feet or more in length, and are pinnately divided into numerous strap shaped segments. The separate male and female flowers are in axillary panicles. The male flowers have 3 yellow petals and 2 stamens. The ovoid coconut is up to a foot long, and is composed of a thick fibrous husk, a hard shell, and a single seed with the copra lining the interior, and water (coconut milk) filling the cavity when it is young.

Malayan Gold Dwarf Coconut makes a beautiful accent on the lawn and provides nice filtered shade for the patio.

The Malayan Gold Dwarf Coconut is very salt tolerant and is at its most sensational when planted beachside where the sea breeze can rustle its huge feather leaves.

Cultivars
Coconut palms have two natural subgroups simply referred to as "Tall" and "Dwarf". Most commercial plantings use high yielding, longer lived Tall cultivars, and each region has its own selections, e.g., 'Ceylon Tall', Indian Tall', 'Jamaica Tall' (syn. 'Atlantic Tall'), 'Panama Tall' (syn. 'Pacific Tall'). The Tall cultivar group is sometimes given the name Cocos nucifera var. typica, and the dwarf cultivar group C. nucifera var. nana. Malayan Gold Coconut Trees are in this dwarf group. Dwarf cultivars, particularly the popular ornamentals, are largely self-pollinating as opposed to the Tall cultivars of commerce which rarely pollinate themselves.

Malayan Gold Semi-Dwarf Coconut

The coconut palm starts fruiting 6 to 10 years after the seed germinates and reaches full production at 15 to 20 years of age. It continues to fruit until it is about 80 years old with an annual production of 50 to 200 fruits per tree, depending on cultivar and climate. The fruits require about a year to develop and are generally produced regularly throughout the year.

Fruit
Malayan Gold Dwarf Coconuts are small drupes, ovoid in shape, up to 12" long and 10" wide. The exocarp or skin is yellow to gold, turning to brown with age. The mesocarp is fibrous and dry at maturity.

Coconut palm cultivars

Cultivar

Type

Lethal yellowing resistance

Petiole and immature fruit color

Jamaica Tall

Tall

Very low

Green or bronze

Panama Tall

Tall

Rather low

Green or bronze

Hawaiian Tall

Tall

Rather low

Green or bronze

Malayan Dwarf

Semi-Dwarf

Rather low

Green, or bronze

Malayan Dwarf
Semi-Dwarf
Rather low
Yellow
Malayan Dwarf
Semi-Dwarf
Rather low
Golden
Maypan hybrid

Tall

Low

Green or bronze

Samoan Dwarf (Niu Leka)

Dwarf

High

Green or bronze

During the last two decades, coconut palms in south Florida have been attacked by a microorganism that causes a fatal disease called lethal yellowing. Fortunately, Malayan Gold Dwarf Coconut is lethal yellowing resistant.

The Malayan Dwarf Coconuts and Samoan Dwarf Coconut in Hawai'i, and many other palm species are resistant to lethal yellows. The 'Malayan Dwarf' cultivar and the hybrid 'Maypan' have been widely planted in Florida because of their reported resistance to lethal yellowing (LY), a fatal disease of coconut palms in Florida and parts of the Caribbean region.

Although these varieties were originally believed to be highly resistant to this disease, long-term trials in Florida have revealed that they are only slightly less susceptible than the 'Jamaican Tall' they were intended to replace. The only cultivar in the United States that has been demonstrated in long-term studies to be resistant to LY is the 'Samoan Dwarf' (Niu Leka), a slow-growing variety with very broad leaves and leaflets.

Nothing will set a tropical tone like this

Malayan Gold Dwarf Coconut!

Polynesian Produce Stand

All good things take time, so I grow my plants and rare palms in my ebay store.

Much more to check out or just get a little education on in my store.

Shipping

We ship via USPS Mondays-Wednesday with Delivery confirmation.

All live plants are Inspected By USDA Plant Inspectors before they are shipped to insure you get healthy pest free plants and seeds.

All live plants are shipped bare-root wrapped in moist sphagnum moss to ensure the plant's healthy transit to you.

ATTENTION INTERNATIONAL BIDDERS!

We can ship live plants to the US only. Only Domestic Shipping and Handling includes USDA Certification.

We ship Seeds Internationally.

All International shipments are at Buyer's Risk. Please spend no more more than you can lose!

Proper Permits and Documents are the BUYER's responsibility. Please request any documents prior to shipping.

For foreign customers, please check your laws concerning permitting and customs, additional shipping and handling costs may apply.

The additional charge for any Phytosanitary Certificate is not included in this offer.

INTERNATIONAL SHIPPING ON LIVE PLANTS is available only under these conditions!

All international orders are shipped at the BUYER's RISK (shipped with or without documents) and no refunds or replacements are offered for Dead On Arrival, loss, confiscation, Customs Seizure, unanticipated charges, etc.

Payment

We accept online payments only through PayPal, Cash payments are only acceptable for in-person payments and cash-on-delivery (COD). Cash payment can not be sent through the mail.

Please only one Paypal payment. SO THE COMBINED SHIPPING RULE WILL CAN BE USED. Multiple paypal payments are NOT eligible for discounts.

We will ship once a week - ON or BEFORE WEDNESDAYS, because of the special stamps needed to ship plants and cuttings to you. This can only be done at the Dept. of Agriculture. If payments are not met before that MONDAY, your items will be shipped the following week and lose the combined discount opportunity.

Non-paying bidders may receive negative feedback and will be reported as an unpaid item to eBay.

COMBINED SHIPPING POLICY

INTERNATIONAL SHIPPING is not included in this offer.

See INTERNATIONAL SHIPPING ON LIVE PLANTS

We will combine shipping for auctions won on the same week paid with same paypal payment.

This policy is good for all items bought and paid for in the week ending MONDAY.

Payment must be received within 7 days of the auction ending.

Combined Discounts Won Auctions

For 2-3 winning auctions, the combined discount is 10% of the total Shipping and Handling charges. For 4-7 winning auctions, the combined discount is 20% of the total Shipping and Handling charges. For 7+ winning auctions, the combined discount is 30% of the total Shipping and Handling charges.

As each order is packed and prepared separately you will pay the quoted S/H charges individually per item. If you buy the same species in that item it does calculate out the discount (i.e.: additional item $3.61). My stores' combined shipping is built in for same items rather than a varied selection. Includes postage, USDA certification and inspection, proper packing and delivery to Airport for prompt delivery. I can't really change any of these. If you want one of this and one of that, it gets hard to discount much as each different species requires it's own prep & packing, then at USDA each has to be unwrapped and inspected then repacked. USDA requires me to clean and prepare every last piece before we drive them to the Inspection Station on the other side of the island. It takes my wife and I, a day to pack items and get ready to ship. The whole next day we drive around the island and get inspected (2-3 hours), then drive to the Airport Post Office to drop off. It takes the same work with the same type item if you can understand.

my dog Taz will fetch your email to me

If you are dissatisfied with the item, please contact me

before leaving a negative or neutral comment.

I want you to be satisfied.

Mahalo iâ `oe no ke kipa `ana mai. E kipa mai hou!

Mahalo & Aloha!!
$59.99
Shipping Carriers
Destination: United States

Carrier
Method
Shipping Cost
Per additional Item
STANDARD
Standard
$19.61
$9.61

Destination: Worldwide

Carrier
Method
Shipping Cost
Per additional Item
STANDARD
Standard
$25.61
$15.61
Payment Method
Type
Instructions to Buyer
Paypal
null