LIVE RARE Variegated RHAPIS BAMBOO LADY PALM COLLECTORS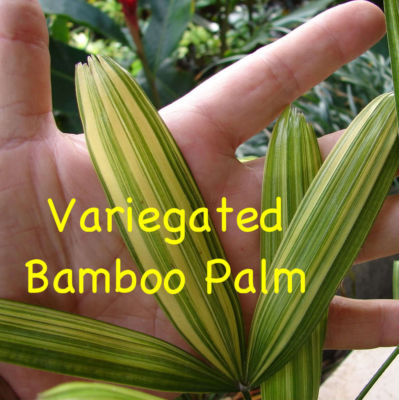 Rhapis excelsa

Lady Palm, Miniature Fan Palm, Parlor palm

Variegated

Lady Palm

Native to China (hort origin)

Rhapis excelsa is a multi-stemmed dioecious palm that grows to a maximum height of between 8 and 12 feet, each stem or cane is slender approximately one inch in diameter, depending on growing conditions and variety. The canes are usually covered by a coarse matted fibrous material which is actually the outer base of each leaf sheath.

You are bidding on one(1) small bare rooted plant 6-12 inches tall with 3-6 leaves.

Photo of mature plant item

Rhapis excelsa is a very popular palm from Southern China. Lady Palm prefers Filtered Sun and likes a rich sandy soil that drains well. This palm will thrive in partial shade on any well-drained soil.

Photo of similar item

Uses: suitable for potted specimen.

Has a colorful trunk and crown. It has a lot of light yellow and green variegation. Leaves are dark glossy green with green and yellow variegation with a white petiole.

Suckering (multiple trunks).

Mature Height: 8 to 12 feet

USDA hardiness zones: 9a through 11

Cold Hardiness: 20-32ºs F.

Palm is an easy grow in areas that occasionally freeze.

Variegated

Lady Palm

In Rhapis excelsa this leaf sheath fiber tends to be loose and rather ragged looking. The leaf sheaths are fairly persistent but when they do fall a dark green conspicuously ringed stem of leaf base scars is exposed: very similar in appearance to bamboo canes, hence the other common name bamboo palm. Individual canes can be closely ringed, or rings may be moderately spaced, depending on growing conditions.

lnflorescences emerge from between the leaf sheath and stem and usually arise from the uppermost portion of the stem. On emerging the inflorescence has a pale pinkish tinge and is enclosed in pale green tubular bracts. Ripe fruits are white to cream, rounded and approximately 36mm across.
One of the reasons for this palm's popularity is its ease of culture.

Rhapis excelsa is very adaptable to soil types although neutral to slightly acid soils with good drainage and organic matter is recommended for best results. This palm as is the case with most Rhapis species is an understory plant so for best results a partially shaded spot under trees or a pergola is ideal. Rhapis excelsa can be grown in full sun as long as soils are good and adequate water is available.

The Lady Palm is often used as a house plant. Rhapis excelsa is a good palm for a container or for a smaller garden. The Lady Palm was introduced into US horticulture in the 60's and often used in Japanese Gardens.

Temperatures as low as 20° F are tolerated by R. excelsa as it is quite cold hardy, particularly when grown under shelter, and it also grows in climates where it may be exposed to prolonged periods of cold weather.

Rhapis excelsa is hardy into the mid-twenties. These palms are surprisingly resilient when forgotten in the landscape. They will persist even when in a very dry environment, though they do appreciate a drink. Rhapis excelsa will form a clump and can be readily divided.

Very hot weather, particularly when the air is very dry, may cause damage which can be prevented by adequate watering, mulching and growing under other plants. Occasional watering of foliage with a fine spray or mist can also help to maintain a higher relative humidity. With the lower fronds are removed from the Lady Palm the fiber wrapped trunks with their leaf scars are very ornamental.

As an indoor plant Rhapis excelsa has no palm rival. Its ability to handle low light intensities, low humidity, varying temperatures plus its suitability to pot culture, small to moderate size and slow growth rate make this palm ideal for indoor culture. Rhapis excelsa has very few pests or diseases to trouble it. The only major pests are scale and mealy bugs. With almost no indoor care, Rhapis excelsa is happy and healthy giving owners years of lush tropical indoor greenery.

Lady Palm is one of the prettiest thin trunked, suckering palms.

Well worth a try for any palm enthusiast.

Rhapis excelsa is a must have for most areas in Southern California.

Bamboo Palm is the finest premium houseplant you can own.

Of the tribe Arecaceae, it is also known by the botanic name

Variegated Rhapis excelsa

Polynesian Produce Stand

All good things take time, so I grow my plants and rare palms in my ebay store.

Much more to check out or just get a little education on in my store.

Shipping

ATTENTION USA BIDDERS!

All live plants are shipped bare-root wrapped in moist sphagnum moss to ensure the plant's healthy transit to you. All live plants are Inspected By USDA Plant Inspectors before they are shipped to insure you get healthy pest free plants and seeds.

We ship via USPS Mondays-Wednesday with Delivery confirmation.

All plant materials are required by LAW to inspected and certified by USDA prior to export Hawaii to the US Mainland.

After Inspection, USDA stamps released for export Hawaii to the US Mainland. All items are delivered to USDA Inspection Station at Honolulu International airport.

This is included in Shipping and Handling charges a $5 fee per item/species for USDA certification. There is a packing & custom boxing fee. This accounts for most of the handling portion.

Last and usually least is USPS postage (shipping).

ATTENTION INTERNATIONAL BIDDERS!

We can ship live plants to the US only. Only Domestic Shipping and Handling includes USDA Certification.

We ship Seeds Internationally.

All International shipments are at Buyer's Risk. Please spend no more more than you can lose!

Proper Permits and Documents are the BUYER's responsibility. Please request any documents prior to shipping.

For foreign customers, please check your laws concerning permitting and customs, additional shipping and handling costs may apply.

The additional charge for any Phytosanitary Certificate is not included in this offer.

INTERNATIONAL SHIPPING ON LIVE PLANTS is available only under these conditions!

All international orders are shipped at the BUYER's RISK (shipped with or without documents) and no refunds or replacements are offered for Dead On Arrival, loss, confiscation, Customs Seizure, unanticipated charges, etc.

Payment

We accept online payments only through PayPal, Cash payments are only acceptable for in-person payments and cash-on-delivery (COD). Cash payment can not be sent through the mail.

Please only one Paypal payment. SO THE COMBINED SHIPPING RULE WILL CAN BE USED. Multiple paypal payments are NOT eligible for discounts.

We will ship once a week - ON or BEFORE WEDNESDAYS, because of the special stamps needed to ship plants and cuttings to you. This can only be done at the Dept. of Agriculture. If payments are not met before that MONDAY, your items will be shipped the following week and lose the combined discount opportunity.

Non-paying bidders may receive negative feedback and will be reported as an unpaid item to eBay.

COMBINED SHIPPING POLICY

INTERNATIONAL SHIPPING is not included in this offer.

See INTERNATIONAL SHIPPING ON LIVE PLANTS

We will combine shipping for auctions won on the same week paid with same paypal payment.

This policy is good for all items bought and paid for in the week ending MONDAY.

Payment must be received within 7 days of the auction ending.

Combined Discounts Won Auctions

For 2-3 winning auctions, the combined discount is 10% of the total Shipping and Handling charges. For 4-7 winning auctions, the combined discount is 20% of the total Shipping and Handling charges. For 7+ winning auctions, the combined discount is 30% of the total Shipping and Handling charges.

As each order is packed and prepared separately you will pay the quoted S/H charges individually per item. If you buy the same species in that item it does calculate out the discount (i.e.: additional item $3.61). My stores' combined shipping is built in for same items rather than a varied selection. Includes postage, USDA certification and inspection, proper packing and delivery to Airport for prompt delivery. I can't really change any of these. If you want one of this and one of that, it gets hard to discount much as each different species requires it's own prep & packing, then at USDA each has to be unwrapped and inspected then repacked. USDA requires me to clean and prepare every last piece before we drive them to the Inspection Station on the other side of the island. It takes my wife and I, a day to pack items and get ready to ship. The whole next day we drive around the island and get inspected (2-3 hours), then drive to the Airport Post Office to drop off. It takes the same work with the same type item if you can understand.

my dog Taz will fetch your email to me

If you are dissatisfied with the item, please contact me

before leaving a negative or neutral comment.

I want you to be satisfied.

Mahalo iâ `oe no ke kipa `ana mai. E kipa mai hou!

Mahalo & Aloha!!

Rare Palm Seeds

Fresh Highest Quality


Seller warrants seed to be of the variety and quantity advertised. Safe delivery is guaranteed and seeds lost or damaged during shipment will be replaced at seller's expense. Claims must be made within 7 days of shipment. All other replacements, refunds, returns and exchanges will be made at the sole discretion of the seller.

Seed is a live product which depends on many important related grower skills such as proper planting time, seed depth, type of soil, irrigation, proper use of fertilizers, weed controls, fungicides, insecticides, disease free soil, and reasonable weather conditions during the growing period. Germination is affected by such factors as temperature, moisture content, light intensity and contamination of planting media. These factors are totally out of the seller's control and are the buyer's responsibility and risk. Consequentially, the seller cannot unconditionally guarantee seed to perform properly regardless of conditions or the buyer's methods or mistakes.
$29.99
Shipping Carriers
Destination: United States

Carrier
Method
Shipping Cost
Per additional Item
STANDARD
Standard
$12.61
$12.61

Destination: Worldwide

Carrier
Method
Shipping Cost
Per additional Item
STANDARD
Standard
$15.61
$15.61
Payment Method
Type
Instructions to Buyer
Paypal
null