(2) CHOCOLATE Trees ~Fruit of Gods~ Theobroma CACAO PLANT LIVE 2 Seedling Plants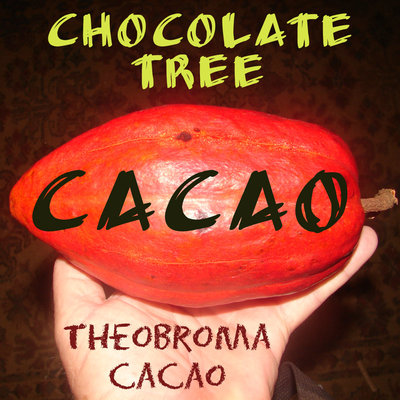 Click Here. Double your traffic. Get Vendio Gallery - Now FREE!
Chocolate Tree

Fruit of Gods

Cacao, Cocoa Tree
Theobroma cacao

The Cacao Tree fruit is a huge berry called cacao pod, usually egg or melon-shaped, 5 to 12 inches long and 3 to 5 inches wide. The cacao pod contains 30 to 40 seeds. It takes 20 to 25 pods to get 2 pounds of cocoa. Once the tree reaches maturity, fruit pods will sprout from its trunk and branches. The golden-red to purple fruit pods turn brown at maturity, at which time they are split open and the insides scooped out.

Chocolate Tree Seedling


Theobroma cacao

You are bidding on two (2) bare root seedlings with vigorous root systems 6-10 inches tall with 2-4 leaves born and grown in Hawaii.

Ready to pot in a 1 gal container.

Height: 15-30 ft. (6-9 m)

Hardiness: USDA Zone 11: above 4.5 °C (40 °F)

Sun Exposure: Light Shade

photo of similar item

The Cacao Tree is a shade tolerant, moisture loving, understory rainforest tree. It naturally favors riparian zones so often in the wild is found along rivers. The trees live for up to 100 years, but cultivated trees are considered economically productive for only about 60 years.

Unlike most fruit that grows on the branches, cacao pods grow directly on the trunk of the tree. The cacao tree yields its first crop at 3-4 years old.

They give fruit three to four times a year.
The hard, coarse shell changes from green to yellow, and then to a reddish brown.

Origin of this tropical understory tree in the family of the Sterculiaceae are the Amazon Headwaters from where it moved to Central America. Cocoa cultivation began by Mayan tribes in Central America, ca. 1500 BC. Mayas and Aztec attributed divine origin to cocoa tree (brought by god Quetzacoatl). The precious cocoa beans were used as a currency. The sacred beverage called "chocolatl" was consumed from golden cups.

The cacao tree can flourish only in the hottest regions of the world, but the young plants in particular need lots of shade. Delicate seedlings are easily sunburned, and so they must have direct cover from larger trees in the rainforest canopy. The cocoa trees develops under the shade of other large tropical forest trees. In farms they may be under or banana or coconut trees. They need 80+ inches of rain, and high humidity.

Inside the fruit is a white sweet pulp and arranged in five rows are almond-shaped bitter cacao seeds. Each pod generally produces 20 to 40 cacao beans. These seeds are the ones used to make chocolate.

Polynesian Produce Stand

All good things take time, so I grow my plants and rare palms in my ebay store.

Much more to check out or just get a little education on in my store.

Shipping

We ship via USPS Mondays-Wednesday with Delivery confirmation.

All live plants are Inspected By USDA Plant Inspectors before they are shipped to insure you get healthy pest free plants and seeds.

All live plants are shipped bare-root wrapped in moist sphagnum moss to ensure the plant's healthy transit to you.

ATTENTION INTERNATIONAL BIDDERS!

We can ship live plants to the US only. Only Domestic Shipping and Handling includes USDA Certification.

We ship Seeds Internationally.

All International shipments are at Buyer's Risk. Please spend no more more than you can lose!

Proper Permits and Documents are the BUYER's responsibility. Please request any documents prior to shipping.

For foreign customers, please check your laws concerning permitting and customs, additional shipping and handling costs may apply.

The additional charge for any Phytosanitary Certificate is not included in this offer.

INTERNATIONAL SHIPPING ON LIVE PLANTS is available only under these conditions!

All international orders are shipped at the BUYER's RISK (shipped with or without documents) and no refunds or replacements are offered for Dead On Arrival, loss, confiscation, Customs Seizure, unanticipated charges, etc.

Payment

We accept online payments only through PayPal, Cash payments are only acceptable for in-person payments and cash-on-delivery (COD). Cash payment can not be sent through the mail.

Please only one Paypal payment. SO THE COMBINED SHIPPING RULE WILL CAN BE USED. Multiple paypal payments are NOT eligible for discounts.

We will ship once a week - ON or BEFORE WEDNESDAYS, because of the special stamps needed to ship plants and cuttings to you. This can only be done at the Dept. of Agriculture. If payments are not met before that MONDAY, your items will be shipped the following week and lose the combined discount opportunity.

Non-paying bidders may receive negative feedback and will be reported as an unpaid item to eBay.

COMBINED SHIPPING POLICY

INTERNATIONAL SHIPPING is not included in this offer.

See INTERNATIONAL SHIPPING ON LIVE PLANTS

We will combine shipping for auctions won on the same week paid with same paypal payment.

This policy is good for all items bought and paid for in the week ending MONDAY.

Payment must be received within 7 days of the auction ending.

Combined Discounts Won Auctions

For 2-3 winning auctions, the combined discount is 10% of the total Shipping and Handling charges. For 4-7 winning auctions, the combined discount is 20% of the total Shipping and Handling charges. For 7+ winning auctions, the combined discount is 30% of the total Shipping and Handling charges.

As each order is packed and prepared separately you will pay the quoted S/H charges individually per item. If you buy the same species in that item it does calculate out the discount (i.e.: additional item $3.61). My stores' combined shipping is built in for same items rather than a varied selection. Includes postage, USDA certification and inspection, proper packing and delivery to Airport for prompt delivery. I can't really change any of these. If you want one of this and one of that, it gets hard to discount much as each different species requires it's own prep & packing, then at USDA each has to be unwrapped and inspected then repacked. USDA requires me to clean and prepare every last piece before we drive them to the Inspection Station on the other side of the island. It takes my wife and I, a day to pack items and get ready to ship. The whole next day we drive around the island and get inspected (2-3 hours), then drive to the Airport Post Office to drop off. It takes the same work with the same type item if you can understand.

my dog Taz will fetch your email to me

If you are dissatisfied with the item, please contact me

before leaving a negative or neutral comment.

I want you to be satisfied.

Mahalo iâ `oe no ke kipa `ana mai. E kipa mai hou!

Mahalo & Aloha!!
$49.99
Shipping Carriers
Destination: United States

Carrier
Method
Shipping Cost
Per additional Item
STANDARD
Standard
$0.00
$0.00

Destination: Worldwide

Carrier
Method
Shipping Cost
Per additional Item
STANDARD
Standard
$12.61
$7.61
Payment Method
Type
Instructions to Buyer
Paypal
null