MARANG RARE Fruit Tree ~FRUIT TASTES like VANILLA ICE CREAM~ TERAP LIVE SEEDLING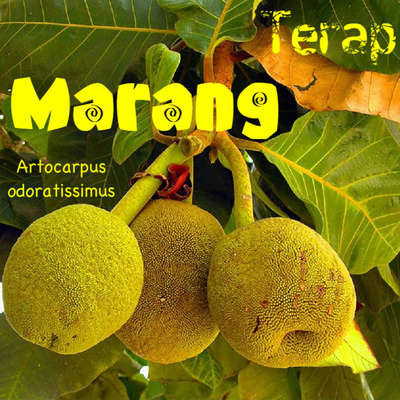 Marang

Artocarpus odoratissimus

aka: Johey Oak, Green Pedalai, Madang, Terap, Timadang

Terap

Native to Borneo

MARANG not only sounds exotic but looks and tastes like VANILLA ICE CREAM.

You are bidding on live bare root seedlings with vigorous root systems * inches tall with * leaves born and grown in Hawaii.

Marang is found growing naturally in Sarawak and Borneo (Kalimantan). Cultivated as well as growing wild in the Philippines, Marang is uncommonly cultivated in Hawaii.
Marang, like the breadfruit, is a tree, which can grow up to 25 m tall and have a 40 cm diameter trunk with low buttresses. Marang leaves are oval-shaped, large, and rough like sandpaper.
Marang fruit is studded with short, soft, greenish yellow spines. When ripe, it produces a strong, penetrating fruity odor. The rind is thick and fleshy. The flesh is separated into segments clinging to the central core and each segment contains a seed surrounded by a sweet, juicy coating that is the edible part of the fruit. The fruit is considered superior in flavor to either Jakfruit or Cempedak.

The appearance of the fruit can be regarded as an intermediate shape between the jackfruit and the breadfruit. The fruit is round to oblong, 15-20 cm long and 13 cm broad, and weighing about 1 kg. The fruit average weight about 1 kg. The thick rind is covered with soft, broad spines. They become hard and brittle as the fruit matures. The fruit does not fall to the ground when ripe. It shopuld be harvested while still hard, and left to ripen until soft. Marang fruits yellow when ripe. The ripe fruit is opened by cutting the rind around, twisting and gently pulling. The interior of the fruit is somewhat similar to a Jakfruit, but the color is white and the flesh is softer and way better tasting.

Photo of similar item.



Marang tree is medium-sized to large. It grows to about 25 meters with a trunk diameter of 40 cm. It could grow in a wide range of soil types-from light to heavy soils-but it will grow better in deep, loamy soil with a pH ranging from 5.5-8. It also yields best in places that are elevated at 800 m above sea level.
It is propagated by budding, grafting, and marching.


Marang is a popular fruit dessert. After all, it is nutritious; it contains protein, fat, carbohydrates, crude fiber, ash, calcium, phosphorus, iron, retinol, beta-carotene, vitamin A, thiamine, riboflavin, niacin, and ascorbic acid.


Fruits are 16 cm long, 13 cm in diameter, and weighs about 1,000 to 1,800 grams. The thick, fleshy rind is thickly studded with greenish, yellowish, blunt spines. Inside it is a white, soft, sweet, and aromatic flesh from which many whites seeds easily separate. The fruit is also highly perishable that's why it is carefully harvested by cutting its peduncle and then placing it in woven baskets or boxes.
The fruit has also a strong scent especially when it is ripe. Once opened, it should be consumed immediately or in just a few hours as it easily loses flavor and oxidizes.

Seedlings should be allowed to harden for at least two months when these are at least 1 foot tall with three pairs of leaves each. The ideal distance between seedlings in an open field is 6 m x 6 m in a square system. It can be intercropped while it is still unproductive. Marang can start to bear fruit at 4 to 5 years of age.

This tropical fruit tree will not thrive in regions where temperature falls below 32°. Marang looks like jackfruit and seeded breadfruit, but it is far superior in quality to either of these. Indigenous in Borneo, Marang is popularly grown especially from July to September.




All good things take time, so I grow my plants and rare palms in my ebay store.

Much more to check out or just get a little education on in my store.

| | | | |
| --- | --- | --- | --- |
| | Visit my eBay Store:Polynesian Produce Stand | | Search my eBay Store: |

Shipping

ATTENTION USA BIDDERS!

All live plants are shipped bare-root wrapped in moist sphagnum moss to ensure the plant's healthy transit to you. All live plants are Inspected By USDA Plant Inspectors before they are shipped to insure you get healthy pest free plants and seeds.

We ship via USPS Mondays-Wednesday with Delivery confirmation.

All plant materials are required by LAW to inspected and certified by USDA prior to export Hawaii to the US Mainland.

After Inspection, USDA stamps released for export Hawaii to the US Mainland. All items are delivered to USDA Inspection Station at Honolulu International airport.

USDA Certification charge is included in Shipping and Handling @ $5 fee per item/species.

There is a packing & custom boxing fee.

Last and usually least is USPS postage (shipping)

ATTENTION INTERNATIONAL BIDDERS!

We can ship certified live plants to the US only. Only Domestic Shipping and Handling includes USDA Certification.

We ship Seeds Internationally.

All International shipments are at Buyer's Risk. Please spend no more more than you can lose!

Proper Permits and Documents are the BUYER's responsibility. Please request any documents prior to shipping.

For foreign customers, please check your laws concerning permitting and customs, additional shipping and handling costs may apply.

The additional charge for any Phytosanitary Certificate is not included in this offer.

INTERNATIONAL SHIPPING ON LIVE PLANTS is available only under these conditions!

All international orders are shipped at the BUYER's RISK (shipped with or without documents) and no refunds or replacements are offered for Dead On Arrival, loss, confiscation, Customs Seizure, unanticipated charges, etc.

Payment

We accept online payments only through PayPal, Cash payments are only acceptable for in-person payments and cash-on-delivery (COD). Cash payment can not be sent through the mail.

Please only one Paypal payment. SO THE COMBINED SHIPPING RULE WILL CAN BE USED. Late or Multiple PayPal payments are NOT eligible for any discount.

We will ship once a week - ON or BEFORE WEDNESDAYS, because of the special stamps needed to ship plants and cuttings to you. This can only be done at the Dept. of Agriculture. If payments are not met before that MONDAY, your items will be shipped the following week and lose the combined discount opportunity. Non-paying bidders may receive negative feedback and will be reported as an unpaid item to eBay.

COMBINED SHIPPING POLICY

INTERNATIONAL SHIPPING is not included in this offer.

INTERNATIONAL SHIPPING ON LIVE PLANTS on a case by case basis.

We will combine shipping for auctions won on the same week paid with same PayPal payment.

This policy is good for auction items bought and paid for in the week ending MONDAY.

We ship on Tuesdays.

Payment must be received within 4 days of the auction ending.

Combined Discounts Won Auctions

For 2-3 winning auctions, the combined discount is 10% of the total Shipping and Handling charges.

For 4-7 winning auctions, the combined discount is 20% of the total Shipping and Handling charges.

For 7+ winning auctions, the combined discount is 30% of the total Shipping and Handling charges.

As each order is packed and prepared separately you will pay the quoted S/H charges individually per item. If you buy the same species in that item it does calculate out the discount (i.e.: additional items)

My stores' combined shipping is built in for same items rather than a varied selection. Domestic S/H includes postage, USDA certification and inspection, proper packing and delivery to Airport for prompt delivery. I can't really change any of these. If you want one of this and one of that, it is hard to discount much as each different species requires it's own prep, packing, then at USDA each has to be unwrapped and inspected then repacked. USDA requires me to clean and prepare every last piece before we drive them to the Inspection Station on the other side of the island. It takes my wife and I, 2-3 days to pack items and get ready to ship. The whole next day we drive around the island and get inspected (2-3 hours), then drive to the Airport Post Office to drop off. It takes the same work with the same type item if you can understand.

After you purchase
After you Receive your Items.

LIVE PLANTS ARE PERISHABLE.

For this reason uninsurable.

When you order a plant we assume you are prepared to care for it. Please have potting media and a container prepared for your plant before it arrives. Shipping can be stressful on a plant, and any mistakes that you make upon arrival can stress the plant further, which is not good. Proper care is critical upon arrival. It is your responsibility to know how to care for the plant.

Not every plant that I order through the mail survives, and I am aware of that and accept the risk when I order. This is the risk that you as the buyer accept, because there is no way to know what kind of conditions it will endure in the trip to your door. My responsibility ends when a live plant is delivered to your door. Live arrival is guaranteed, eternal survival is up to you.

Please Do NOT email me a week after potting your plant, and make a claim it arrived damaged. From delivery confirmation, you have only 48 hours from delivery confirmation to make any claim.

All claims need to be supported with Photos of the damaged plant(s) as packed/unpacked, the box if damaged, the packing materials and any documents. I am very reasonable and understanding, anything can happen to small plants in transit.

The expense to send it to you is most of your payment. To send any replacements, I try to piggy back with your next order.

Replacement is not an option for CUSTOMS SEIZURE.

ALL OF MY ITEMS ARE SHIPPED USDA CERTIFIED WITHIN THE U.S.- USDA and USPS fees are included in the actual cost of shipping and Handling.

Please do not leave a 1 or 2 in my detailed seller ratings for postage fees or any reason really because I will block you from any further purchases. I ship items the best and least expensive option. These are coming from Hawaii. The only thing inexpensive here in Hawaii are my items!! I do ship all my items promptly via best method--if you feel like the combined shipping fee is wrong, please wait to be invoiced and check back with me-I value your business and will work diligently to keep you satisfied. I am very generous and reasonable with reasonable people, just ask.

my dog Taz will fetch your email to me

If you are dissatisfied with the item for any reason, please contact me before leaving a negative or neutral comment.

I want you to be satisfied!

Mahalo iâ `oe no ke kipa `ana mai. E kipa mai hou!

Rare Palm Seeds

Fresh Highest Quality

Seller warrants seed to be of the variety and quantity advertised. Safe delivery is guaranteed and seeds lost or damaged during shipment will be replaced at seller's expense. Claims must be made within 7 days of shipment. All other replacements, refunds, returns and exchanges will be made at the sole discretion of the seller.

Seed is a live product which depends on many important related grower skills such as proper planting time, seed depth, type of soil, irrigation, proper use of fertilizers, weed controls, fungicides, insecticides, disease free soil, and reasonable weather conditions during the growing period. Germination is affected by such factors as temperature, moisture content, light intensity and contamination of planting media. These factors are totally out of the seller's control and are the buyer's responsibility and risk. Consequentially, the seller cannot unconditionally guarantee seed to perform properly regardless of conditions or the buyer's methods or mistakes.

Mahalo & Aloha!!
$24.99
Shipping Carriers
Destination: United States

Carrier
Method
Shipping Cost
Per additional Item
STANDARD
Standard
$9.61

Destination: Worldwide

Carrier
Method
Shipping Cost
Per additional Item
STANDARD
Standard
$12.61
Payment Method
Type
Instructions to Buyer
Paypal
null