BI~COLOR Caladium ~Neon Pink Spots!~ (Rubicundum) Live Elephant Ear Potted Plant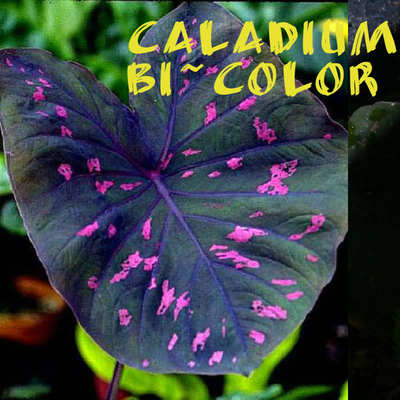 Caladium clavatum

~Bi-Color~

(Caladium bicolor var. rubicundum Engler)

origin : Brazil (Province of Para), Surinam, Ecuador, Columbia, Venezuela

Bi-Color is an exotic caladium with heart shaped leaves with wavy edges. At maturity, it has hot pink spots on dark green leaves, with purple veins underneath.

Elephant Ear, Angel Wings, Heart of Jesus, 'Bi Color Beauty'
You are bidding on small starter potted plants with vigorous root systems 2-4 inches tall with * leaves grown in Hawaii.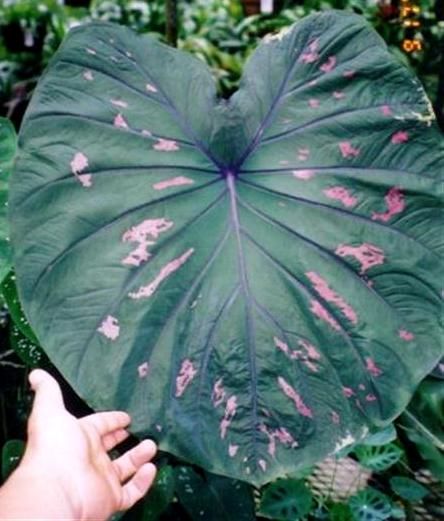 Horticulturists have been breeding Caladiums very differently. There are now a number of very unique Caladiums. Caladiums are very showy with their unusual colors and patterns.



Brian Williams (competent grower, Brian's Botanicals) states Dewey Fisk informed him that this beautiful caladium variety was collected many years ago in the center of a small village in South America. The village grew it in the center of the village in a landscape display. The collector who was visiting the village could not help himself and took a piece of the plant and brought it back to the states.


Engler (1882) gives the distribution as Brazil (Province of Para) and Surinam. and it has been collected in Ecuador (personal communications, Dewey Fisk).

The plant in the greenhouse usually holds two leaves. The blades of the leaves have irregular pink spots on a deep reddish-green background. When the leaves first expand, the deep red is the more predominant color.
photos of adult plants
item size is small starter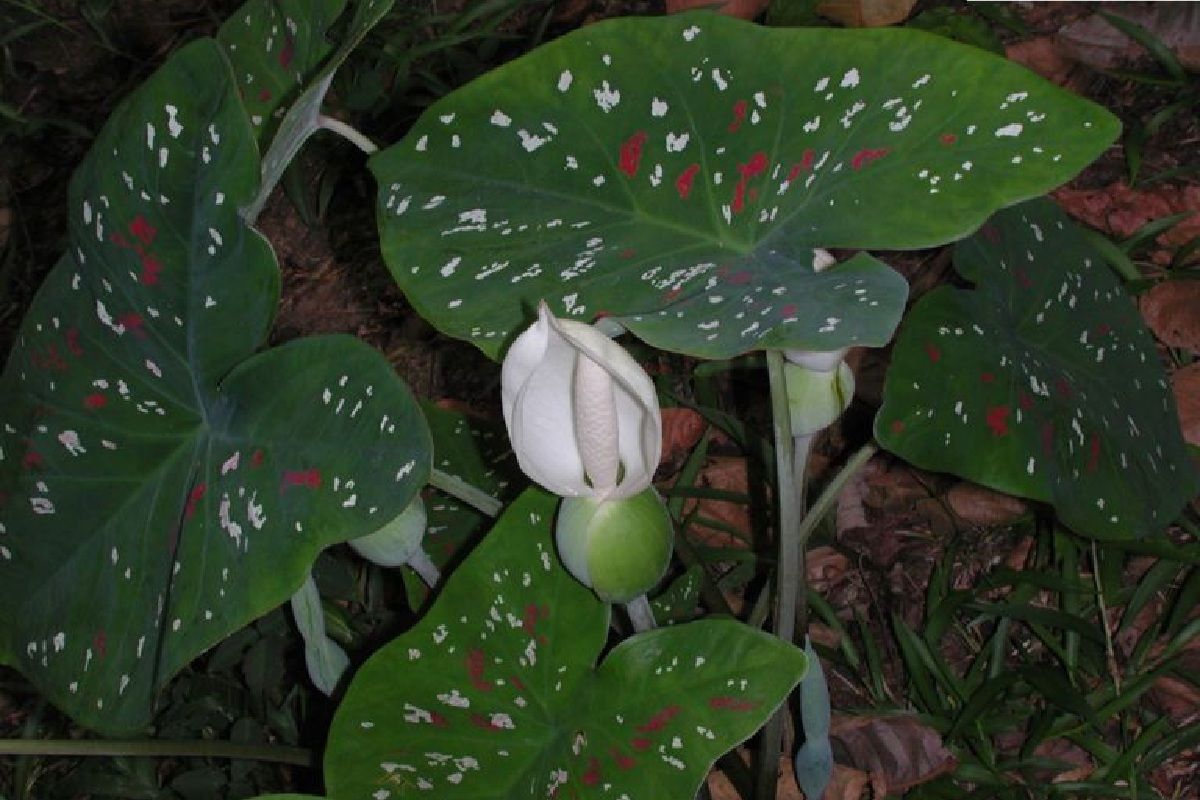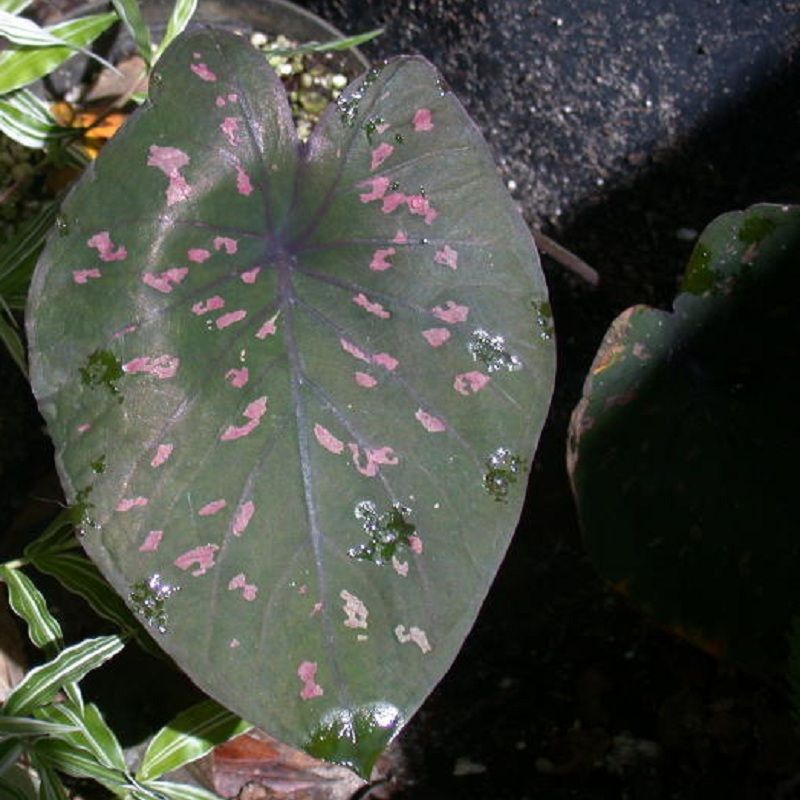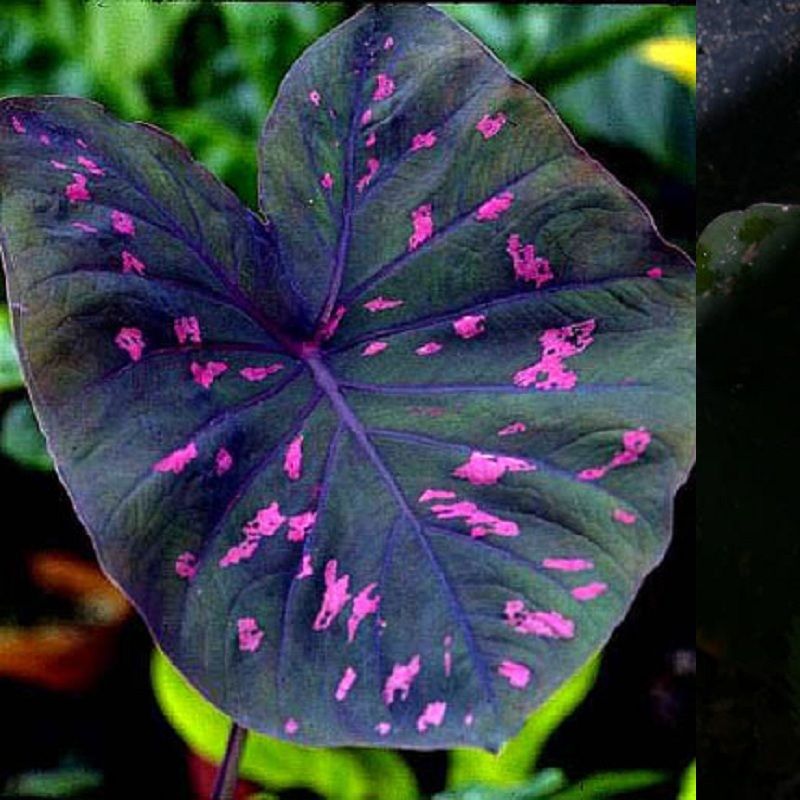 photos of adult plants
item size is small starter
Cultivation:

The Florida Cooperative Extension Service, Institute of Food and Agricultural Sciences, University of Florida, has written a bulletin on the cultivation of the fancy-leaved caladium as plants in pots and in the landscape. Click here to go download that publication.

Bi-Color Caladium prefers bright indirect sunlight. The tubers can over winter in the ground in zones 10-11. It is recommended to lift the tubers in zone 9 and below. If the plant goes dormant, it will wake from dormancy once the soil temperature reaches about 55 Fahrenheit.
Hardiness Zone - 8 - 11
Bloom - Not significant.
Winter - Below 50°F this plant may go dormant. Frost may kill the tubers. This plant may have cold damage on the leaves below 45 Fahrenheit.
Mature height - Grows to 2-6 ft
Sun - Thrives in light shade.
Water - This plant prefers an even, moist soil. The soil should never dry out completely.
Fertilizer - Use a balanced fertilizer. This plant is a medium feeder.
Soil - Use a well draining professional mix.
Container - This is an excellent container plant.

As a house plant, it will need bright light and evenly moist soil.

Easy to grow and propagate from bulbs that the plant produces year after year.


All good things take time, so I grow my plants and rare palms in

my ebay store.
Much more to check out or just get a little education on in my store.
| | | | |
| --- | --- | --- | --- |
| | Visit my eBay Store:Polynesian Produce Stand | | Search my eBay Store: |

Shipping

ATTENTION USA BIDDERS!

All live plants are shipped bare-root wrapped in moist sphagnum moss to ensure the plant's healthy transit to you. All live plants are Inspected By USDA Plant Inspectors before they are shipped to insure you get healthy pest free plants and seeds.

We ship via USPS Mondays-Wednesday with Delivery confirmation.

All plant materials are required by LAW to inspected and certified by USDA prior to export Hawaii to the US Mainland.

After Inspection, USDA stamps released for export Hawaii to the US Mainland. All items are delivered to USDA Inspection Station at Honolulu International airport.

USDA Certification charge is included in Shipping and Handling @ $5 fee per item/species.

There is a packing & custom boxing fee.

Last and usually least is USPS postage (shipping).

ATTENTION INTERNATIONAL BIDDERS!

We can ship certified live plants to the US only. Only Domestic Shipping and Handling includes USDA Certification.

We ship Seeds Internationally.

All International shipments are at Buyer's Risk. Please spend no more more than you can lose!

Proper Permits and Documents are the BUYER's responsibility. Please request any documents prior to shipping.

For foreign customers, please check your laws concerning permitting and customs, additional shipping and handling costs may apply.

The additional charge for any Phytosanitary Certificate is not included in this offer.
INTERNATIONAL SHIPPING ON LIVE PLANTS is available only under these conditions!
All international orders are shipped at the BUYER's RISK (shipped with or without documents) and no refunds or replacements are offered for Dead On Arrival, loss, confiscation, Customs Seizure, unanticipated charges, etc.
Payment
We accept online payments only through PayPal, Cash payments are only acceptable for in-person payments and cash-on-delivery (COD). Cash payment can not be sent through the mail.
Please only one Paypal payment. SO THE COMBINED SHIPPING RULE WILL CAN BE USED. Multiple paypal payments are NOT eligible for discounts.
We will ship once a week - ON or BEFORE WEDNESDAYS, because of the special stamps needed to ship plants and cuttings to you. This can only be done at the Dept. of Agriculture. If payments are not met before that MONDAY, your items will be shipped the following week and lose the combined discount opportunity.
Non-paying bidders may receive negative feedback and will be reported as an unpaid item to eBay.
COMBINED SHIPPING POLICY
INTERNATIONAL SHIPPING is not included in this offer. INTERNATIONAL SHIPPING ON LIVE PLANTS on a case by case basis.
We will combine shipping for auctions won on the same week paid with same PayPal payment.

This policy is good for auction items bought and paid for in the week ending MONDAY.

We ship on Tuesdays.

Payment must be received within 4 days of the auction ending.
Combined Discounts Won Auctions

For 2-3 winning auctions, the combined discount is 10% of the total Shipping and Handling charges.
For 4-7 winning auctions, the combined discount is 20% of the total Shipping and Handling charges.
For 7+ winning auctions, the combined discount is 30% of the total Shipping and Handling charges.

As each order is packed and prepared separately you will pay the quoted S/H charges individually per item. If you buy the same species in that item it does calculate out the discount (i.e.: additional item $7.61). My stores' combined shipping is built in for same items rather than a varied selection. S/H includes postage, USDA certification and inspection, proper packing and delivery to Airport for prompt delivery. I can't really change any of these. If you want one of this and one of that, it is hard to discount much as each different species requires it's own prep, packing, then at USDA each has to be unwrapped and inspected then repacked. USDA requires me to clean and prepare every last piece before we drive them to the
Inspection Station on the other side of the island. It takes my wife and I, a day to pack items and get ready to ship. The whole next day we drive around the island and get inspected (2-3 hours), then drive to the Airport Post Office to drop off. It takes the same work with the same type item if you can understand.
After you purchase
After you Receive your Items.
LIVE PLANTS ARE PERISHABLE.

For this reason uninsurable.

When you order a plant we assume you are prepared to care for it. Please have potting media and a container prepared for your plant before it arrives. Shipping can be stressful on a plant, and any mistakes that you make upon arrival can stress the plant further, which is not good. Proper care is critical upon arrival. It is your responsibility to know how to care for the plant.

Not every plant that I order through the mail survives, and I am aware of that and accept the risk when I order. This is the risk that you as the buyer accept, because there is no way to know what kind of conditions it will endure in the trip to your door. My responsibility ends when a live plant is delivered to your door. Live arrival is guaranteed, eternal survival is up to you.

Please Do NOT email me a week after potting your plant, and make a claim it arrived damaged. From delivery confirmation, you have only 48 hours from delivery confirmation to make any claim.
All claims need to be supported with Photos of the damaged plant(s) as packed/unpacked, the box if damaged, the packing materials and any documents. I am very reasonable and understanding, anything can happen to small plants in transit.

The expense to send it to you is most of your payment. To send any replacement(s), I try to piggy back with your next order.

Replacement is not an option for CUSTOMS SEIZURE.

ALL OF MY ITEMS ARE SHIPPED USDA CERTIFIED WITHIN THE U.S.- USDA and USPS fees are included in the actual cost of shipping and Handling.

Please do not leave a 1 or 2 in my detailed seller ratings for postage fees or any reason really because I will block you from any further purchases. I ship items the best and least expensive option. These are coming from Hawaii. The only thing inexpensive here in Hawaii are my items!! I do ship all my items promptly via best method--if you feel like the combined shipping fee is wrong, please wait to be invoiced and check back with me-I value your business and will work diligently to keep you satisfied. I am very generous and reasonable with reasonable people, just ask.

my dog Taz will fetch your email to me
If you are dissatisfied with the item, please contact me

before leaving a negative or neutral comment.

I want you to be satisfied.

Mahalo iâ `oe no ke kipa `ana mai. E kipa mai hou!
Rare Palm Seeds
Fresh Highest Quality

Seller warrants seed to be of the variety and quantity advertised. Safe delivery is guaranteed and seeds lost or damaged during shipment will be replaced at seller's expense. Claims must be made within 7 days of shipment. All other replacements, refunds, returns and exchanges will be made at the sole discretion of the seller.

Seed is a live product which depends on many important related grower skills such as proper planting time, seed depth, type of soil, irrigation, proper use of fertilizers, weed controls, fungicides, insecticides, disease free soil, and reasonable weather conditions during the growing period. Germination is affected by such factors as temperature, moisture content, light intensity and contamination of planting media. These factors are totally out of the seller's control and are the buyer's responsibility and risk. Consequentially, the seller cannot unconditionally guarantee seed to perform properly regardless of conditions or the buyer's methods or mistakes.
Mahalo & Aloha!!
---
On Apr-24-13 at 15:20:57 PDT, seller added the following information:
$39.99
Shipping Carriers
Destination: United States

Carrier
Method
Shipping Cost
Per additional Item
STANDARD
Standard
$0.00
$0.00
USPS
Priority Mail®
$9.96
$4.96

Destination: Worldwide

Carrier
Method
Shipping Cost
Per additional Item
STANDARD
Standard
$15.96
$5.96
Payment Method
Type
Instructions to Buyer
Paypal
null