~TURMERIC~ Curcuma longa 'OLENA Edible SPICE Orange Ginger BareRoot 2 Rhizomes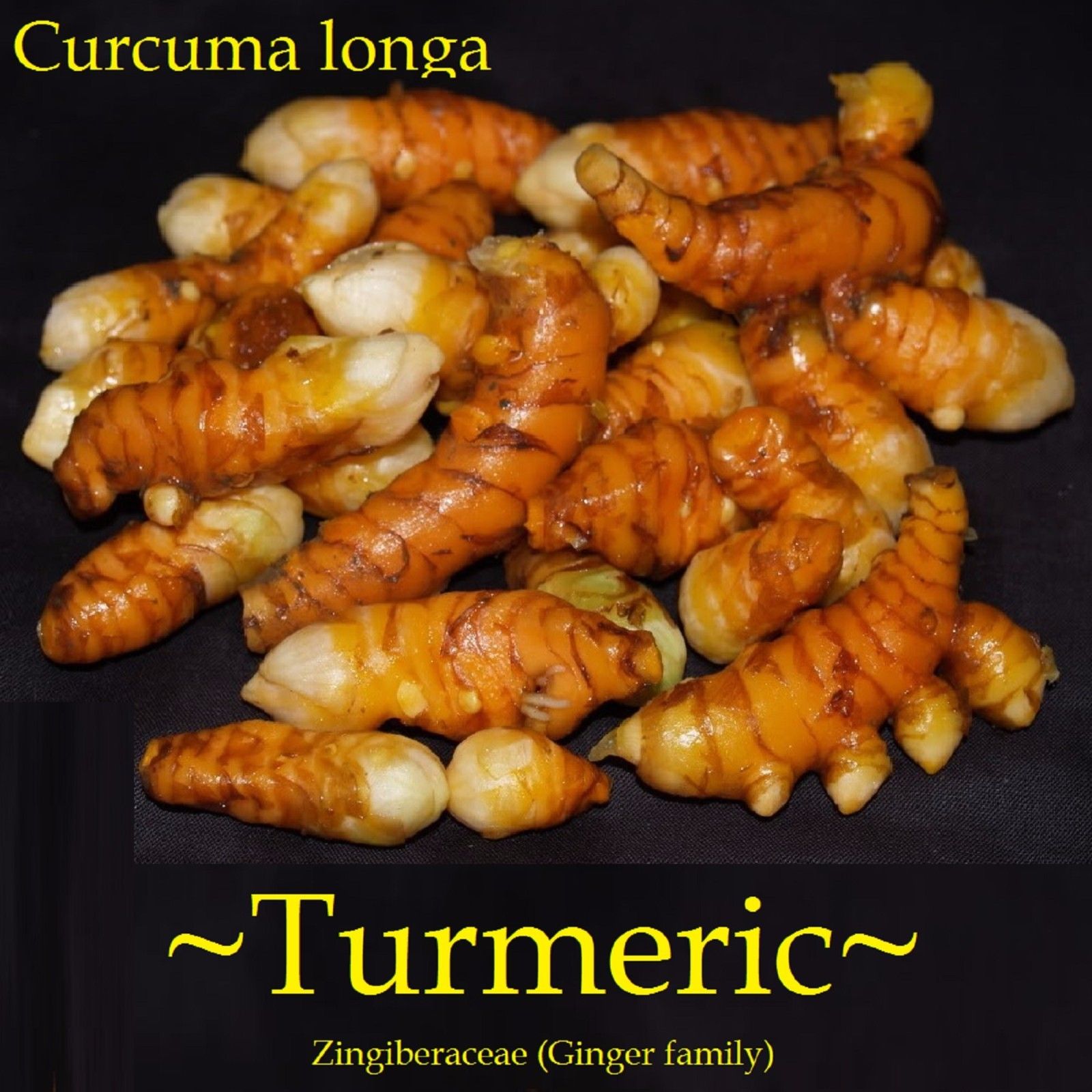 ~Turmeric~

Native to Tropical Asian forests

'Olena

Indigenous to the Hawaiian Islands

Canoe Plant of Ancient Hawai`i

Edible Orange Ginger

Botanical name: Curcuma longa Linn.
Synonmous name: Curcuma domestica Valeton

Curcuma longa

Zingiberaceae (Ginger family)

You are bidding on (*) live bare-root rhizomes collected and grown in Hawaii.

Common names: aka 'Olena in Hawaiian) Turmeric, Common ginger, ginger, cooking ginger, Canton ginger, Edible Orange ginger

Curcuma longa, commonly called turmeric, 'Olena in Hawaiian culture, is a medicinal plant that has been used by many cultures throughout the world, but has only in the last two decades been studied pharmacologically and substantiated by scientific reasearch. This perennial herb is proving to be an important medicine.

'Olena is one of the canoe plants brought by the Polynesians when they discovered the Hawaiian islands. According to Abbott, 1992, and Krohn-Ching, 1980, 'Olena mixed with sea water was used to purify objects, people, and places.

photo of multiple similar items

The wonderful, bright orange rhizomes make a golden yellow dye which was used by Hawaiians to color kapa cloth. The special medicinal uses in Hawaiian culture indicate that the astringent and antibacterial properties of the plant were utilized. The rhizome was crushed and the juice was mixed with water and used as a treatment for ear infections. The same remedy was used for cleaning the nasal passages. The anti-inflammatory action of the plant has been confirmed in recent studies.

Height: 24-36 in. (60-90 cm)

Hardiness: USDA Zone 7a: to -17.7 °C (0 °F)

Sun Exposure: Sun to Partial Shade

Here's your chance to plant these and grow your own spice!

Tumeric (known as 'Olena in Hawaiian) is well known as a culinary herb and important ingredient in traditional healer's medical kit. Curcuma's healing properties are renowned and shared by many cultures.


In Hawaii and India both, it is also used as a saffron dye for fabric and tapa, and foods that are cooked with turmeric (including yellow curry) are noted for their golden signature glow.

Another favorite of ours, We cook with these same rhizomes. These rhizomes add that excellent spicy flavor so prized in Asian recipes. You can cook with these or plant them. Olena ground rhizomes is used for marinating meat and seafood, as well as adding color and taste to curries. We love using the leaves too to spice up some dishes.

Turmeric is native to India and southern Asia and has long been used as a spice in cooking; for coloring food (curry dishes), flavoring, and as a preservative. It's historical uses as a medicine are numerous. As an anti-inflammatory it has been useful for arthritis, allergies, asthma, and eczema. It can be used for external skin conditions such as psoriasis and fungal infections. It has also been used for treating indigestion, gallbladder or liver disease, obesity, and as a cancer preventative. As a digestive, it increases mucus production in the stomach. It is a good natural medicine for nausea and motion sickness.

Turmeric (Curcuma longa) is a rhizomatous herbaceous perennial plant of the ginger family, Zingiberaceae.Plants are gathered annually for their rhizomes, and re-seeded from some of those rhizomes in the following season.

In medieval Europe, turmeric became known as Indian Saffron, since it is widely used as an alternative to the far more expensive saffron spice.

This extremely versatile root is renowned for its popularity in Oriental and Indian cooking.

The 'Olena (Curcuma longa) is an exotic herb grown for its spicy rhizomes used in cooking and medicines. 'Edible Ginger' has broad leaves. Lacking a true stem, long, overlapping leaves grow up to 20 inches high from the root of the plant. Yellow and white flower bracts also appear on 'Olena.


~Turmeric~

'Olena

A relative of the ginger plant, it looks much like a pudgy ginger root from the outside, but once you cut into it, the shock of vibrant orange differentiates it from your average store bought ginger (Zingiber officinale). If you haven't heard about turmeric, most likely you have unknowingly tasted it. Used as one of the main ingredients in Indian curries, and as a coloring agent in mustard, turmeric probably crossed your lips or at least stained that new white shirt you wore to that picnic. Found in body washes, shampoos, soaps, and makeup, turmeric has become increasingly popular in the body care industry. Used in beauty rituals for Indian, and Bengali weddings, brides are covered in turmeric paste to create a glow like no other. Also applied to cuts, skin infections, acne, and scars turmeric has been known as a useful beauty rescue aid.



The rhizomes are boiled for several hours and then dried in hot ovens, after which they are ground into a deep orange-yellow powder commonly used as a spice in curries and other South Asian and Middle Eastern cuisine, for dyeing, and to impart color to mustard condiments. Its active ingredient is curcumin and it has an earthy, bitter, peppery flavor and a mustardy smell.

Turmeric/Curcuma Longa is mainly grown for its aromatic, edible root that is used in cooking as well as medicinal purposes.

Ginger root is also used in baking, confectionery and certain liquors. Ginger root is a gnarled and knobby root that has a tan skin and a pale yellow-green to ivory flesh.

Here is a great Turmeric beauty recipe:

Indian Bridal Glow Mask

1 cup of chickpea flour
3 tablespoons of powdered turmeric
Almond oil (enough to form a paste)

Directions: Mix ingredients into a paste. Apply to the face and body, and let it sit for a few minutes. Remove the mask by rubbing off mixture with your hands. This motion will exfoliate your skin. Cleanse off the rest of the mask. Can be applied once a week.

Fresh ginger root imparts a pungent, hot and spicy taste to many dishes.

All good things take time, so I grow my plants and rare palms in my ebay store.

Much more to check out or just get a little education on in my store.


Shipping

ATTENTION USA BIDDERS!

All live plants if shipped bare-root are wrapped in moist sphagnum moss to ensure the plant's healthy transit to you. All live plants are Inspected By USDA Plant Inspectors before they are shipped to insure you get healthy pest free plants and seeds.

We ship via USPS Mondays-Wednesday with Delivery confirmation.

All plant materials are required by LAW to inspected and certified by USDA prior to export Hawaii to the US Mainland.

After Inspection, USDA stamps released for export Hawaii to the US Mainland. All items are delivered to USDA Inspection Station at Honolulu International airport.

USDA Certification charge is included in Shipping and Handling @ $5 fee per item/species.

There is a packing and custom boxing fee.

Last and usually least is USPS postage (shipping)

ATTENTION INTERNATIONAL BIDDERS!

We can ship certified live plants to the US only. Only Domestic Shipping and Handling includes USDA Certification.

We ship Seeds Internationally.

All International shipments are at Buyer's Risk. Please spend no more more than you can lose!

Proper Permits and Documents are the BUYER's responsibility. Please request any documents prior to shipping.

For foreign customers, please check your laws concerning permitting and customs, additional shipping and handling costs may apply.

The additional charge for any Phytosanitary Certificate is not included in this offer.

INTERNATIONAL SHIPPING ON LIVE PLANTS is available only under these conditions!

All international orders are shipped at the BUYER's RISK (shipped with or without documents) and no refunds or replacements are offered for Dead On Arrival, loss, confiscation, Customs Seizure, unanticipated charges, etc.


Payment

We accept online payments only through PayPal, Cash payments are only acceptable for in-person payments and cash-on-delivery (COD). Cash payment can not be sent through the mail.

Please only one Paypal payment. SO THE COMBINED SHIPPING RULE WILL CAN BE USED. Late or Multiple PayPal payments are NOT eligible for any discount.

We will ship once a week - ON or BEFORE WEDNESDAYS, because of the special stamps needed to ship plants and cuttings to you. This can only be done at the Dept. of Agriculture. If payments are not met before that MONDAY, your items will be shipped the following week and lose the combined discount opportunity. Non-paying bidders may receive negative feedback and will be reported as an unpaid item to eBay.

COMBINED SHIPPING POLICY

INTERNATIONAL SHIPPING is not included in this offer. INTERNATIONAL SHIPPING ON LIVE PLANTS on a case by case basis.

We will combine shipping for auctions won on the same week paid with same PayPal payment.

This policy is good for auction items bought and paid for in the week ending MONDAY.

We ship on Tuesdays.

Payment must be received within 4 days of the auction ending.

Combined Discounts Won Auctions

For 2-3 winning auctions, the combined discount is 10% of the total Shipping and Handling charges.

For 4-7 winning auctions, the combined discount is 20% of the total Shipping and Handling charges.

For 7+ winning auctions, the combined discount is 30% of the total Shipping and Handling charges.

As each order is packed and prepared separately you will pay the quoted S/H charges individually per item. If you buy the same species in that item it does calculate out the discount (i.e.: additional items)

My stores' combined shipping is built in for same items rather than a varied selection. Domestic S/H includes postage, USDA certification and inspection, proper packing and delivery to Airport for prompt delivery. I can't really change any of these. If you want one of this and one of that, it is hard to discount much as each different species requires it's own prep, packing, then at USDA each has to be unwrapped and inspected then repacked. USDA requires me to clean and prepare every last piece before we drive them to the Inspection Station on the other side of the island. It takes my wife and I, 2-3 days to pack items and get ready to ship. The whole next day we drive around the island and get inspected (2-3 hours), then drive to the Airport Post Office to drop off. It takes the same work with the same type item if you can understand.

Before you purchase
After you Receive your Items.

When you order a plant we assume you are prepared to care for it. It is your responsibility to know how to care for the plant. Do some research before they arrive or seek experienced help.

Small plants need protection from many things, wind, sun, dry-out. They do well just in the garage or living room. They need good light but not sunlight (full sun will burn small plants). Small pots dry-out easily. Just sitting in a shallow tray of water works well. The idea is to keep the plants from dehydrating.


Be careful if you decide to re-pot. Re-potting voids any warranty. Plants are easily damaged with new/different mix. Use NO fertilizers (this may kill your plants). Proper care is critical upon arrival. Live Plants are NOT GUARANTEED to survive under your care. DO NOT expect any live plant to be GUARANTEED to remain alive. Plants are NOT GUARANTEED TO SURVIVE after you begin Care! Live arrival is guaranteed, eternal survival is up to you.

IF YOU are NOT able to provide PROPER CARE, PLEASE DO NOT EXPECT plant to be GUARANTEED after it perishes.

NO REPLACEMENT WILL BE CONSIDERED IF YOU HAVE REPOTTED THE PLANT.

Please Do NOT email me a week after potting your plant, and make a claim it arrived damaged. If you repot your plant after delivery, all warranties are voided and no replacement is offered. All photos must be as arrived in original condition as received (in the box and packed as delivered).

If repotted, you are responsible for the condition of the plant. NO REPLACEMENT WILL BE CONSIDERED IF YOU HAVE REPOTTED THE PLANT.

Not every plant that I grow survives, and I am aware of that and accept the risk when I order. This is the risk that you as the buyer accept, because there is no way to know what kind of conditions it will endure in the trip to your door. My responsibility ends when a live plant is delivered to your door.

You are agreeing to these terms when you make this purchase from this listing.


LIVE PLANTS ARE PERISHABLE.

There is the risk when you grow plants that they may die. LIVE PLANTS are PERISHABLE, guaranteed not to live forever.


US orders ONLY are GUARANTEED for LIVE ARRIVAL . All International orders are shipped at the BUYER's RISK!

From delivery confirmation, you have only 48 hours from delivery confirmation to make any claim.

All claims need to be supported with Photos of the damaged plant(s) as packed/unpacked, the box if damaged, the packing materials and any documents.

I am very reasonable and understanding, anything can happen to small plants in transit, for this reason uninsurable.

The expense to send it to you is most of your payment. To send any replacements, I try to piggy back with your next order.

Replacement is not an option for CUSTOMS SEIZURE.

ALL OF MY ITEMS ARE SHIPPED USDA CERTIFIED WITHIN THE U.S. - USDA and USPS fees are included in the actual cost of shipping and Handling.

Please do not leave a 1 or 2 in my detailed seller ratings for postage fees or any reason really because I will block you from any further purchases.

Please contact me before eBay if you have any issue. I am the one who can help you. Do not open any case for any reason really because I will block you from any further purchases.

I ship items the best and least expensive option. These are coming from Hawaii. The only thing inexpensive here in Hawaii are my items!! I do ship all my items promptly via best method. If you feel like the combined shipping fee is wrong, please wait to be invoiced and check back with me! I value your business and will work diligently to keep you satisfied. I am very generous and reasonable with reasonable people, just ask.

my dog Taz will fetch your email to me

If you are dissatisfied with the item for any reason, please contact me before leaving a negative or neutral comment.

I want you to be satisfied!

Mahalo iâ `oe no ke kipa `ana mai. E kipa mai hou!

Rare Seeds

Fresh Highest Quality

When you receive your seeds, you have only 7 days to make any claim. Once planted, seeds can NOT be returned and no refund is offered. All seed sales are final. There are no germination guarantees.

Seller warrants seed to be of the variety and quantity advertised. Safe delivery is guaranteed and seeds lost or damaged during shipment will be replaced at seller's expense. Claims must be made within 7 days of shipment. All other replacements, refunds, returns and exchanges will be made at the sole discretion of the seller.

Seed is a live product which depends on many important related grower skills such as proper planting time, seed depth, type of soil, irrigation, proper use of fertilizers, weed controls, fungicides, insecticides, disease free soil, and reasonable weather conditions during the growing period. Germination is affected by such factors as temperature, moisture content, light intensity and contamination of planting media. These factors are totally out of the seller's control and are the buyer's responsibility and risk. Consequentially, the seller cannot unconditionally guarantee seed to perform properly regardless of conditions or the buyer's methods or mistakes..

Ma ha lo & A l o h a ! !
$9.99
Shipping Carriers
Destination: United States

Carrier
Method
Shipping Cost
Per additional Item
STANDARD
Standard
$0.00
$0.00
USPS
Priority Mail®
$9.96
$0.00

Destination: Worldwide

Carrier
Method
Shipping Cost
Per additional Item
STANDARD
Standard
$15.96
$4.96
USPS
Priority Mail Flat Rate Envelope Intl®
$29.96
$0.00
Payment Method
Type
Instructions to Buyer
Paypal
null