Para Dwarf ~ACAI PALM~ Euterpe Oleracea 2-4 leaves medium 18-24+in Potd Plant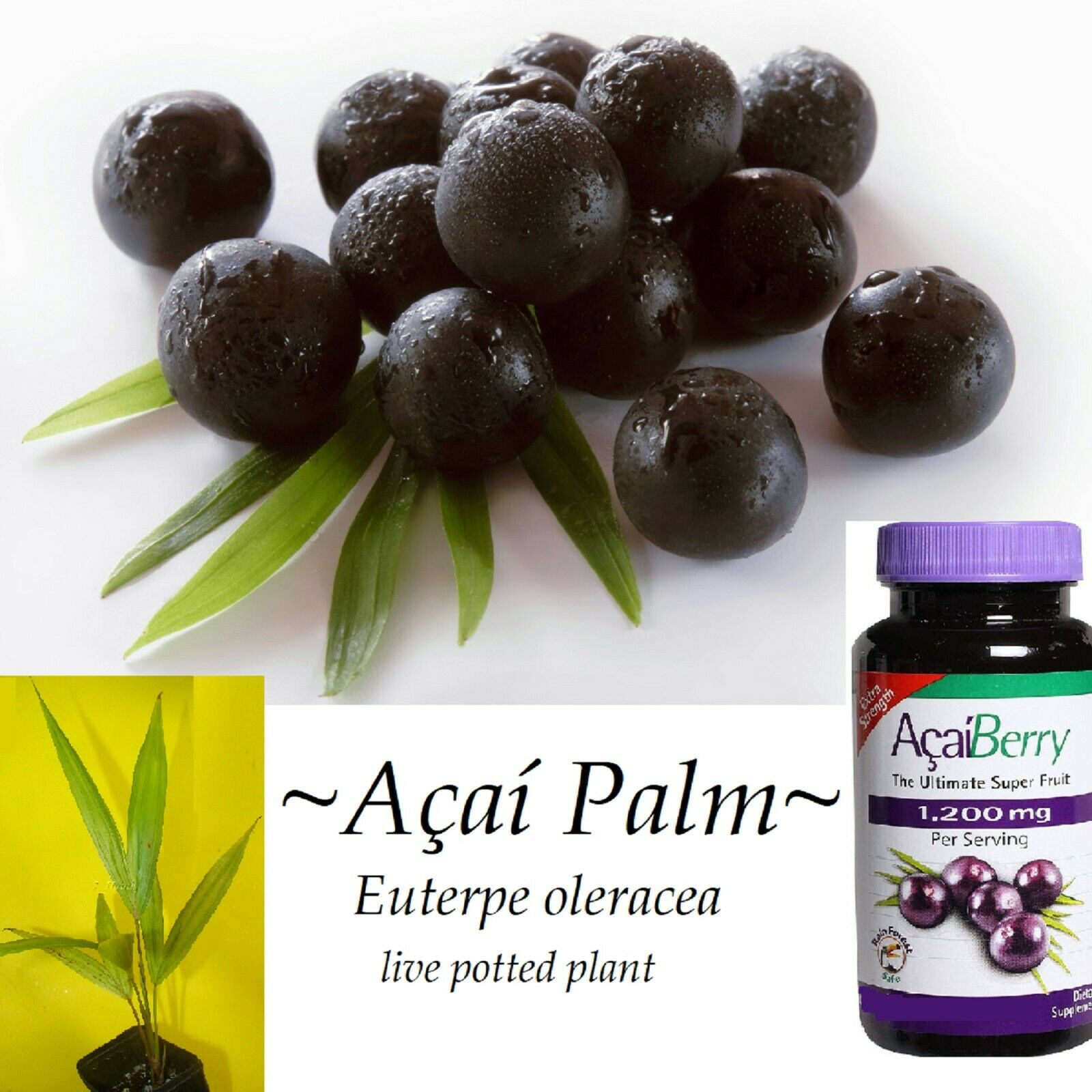 ~Açaí Palm~

Euterpe oleracea

Black Crown form

cultivar: Para Dwarf

Synonym:Euterpe bradiocarpa, Euterpe beardii, Euterpe cuatrecasana

Native range: Brazil to Venezuela, Guyana

This is the genuine Açaí palm, a very tropical palm from Brazil.

The Para Dwarf Variety can be identified easily by the black crownshaft. Beware of copycat seller from Jupiter, Not black crown.

The species Euterpe oleracea, called Açaí Palm is famous for its anti-oxidant qualities

of the fruit juice and as a host of many health benefits - from weight loss, to increased energy and lower cholesterol.

This magical palm is very ornamental, with multiple clumping stems.

The Açaí palm is a fast grower with pinnate leaves that start from a

prominent crown shaft that is dark red, almost black color.

FYI: There are no seeding Acai Palms in Ga., Utah or Calif.

These plants are grown from Acai palms here in Hawaii.




ATTENTION USA BIDDERS!

All live plants if shipped bare-root are wrapped in moist sphagnum moss to ensure the plant's healthy transit to you.

All live plants are Inspected By USDA Plant Inspectors before they are shipped to insure you get healthy pest free plants and seeds.

We ship via USPS Mondays-Wednesday with Delivery confirmation.

All plant materials are required by LAW to inspected and certified by USDA prior to export Hawaii to the US Mainland.

After Inspection, USDA stamps released for export Hawaii to the US Mainland. All items are delivered to USDA Inspection Station at Honolulu International airport.

USDA Certification charge is included in Shipping and Handling @ $5 fee per item/species.

There is a packing and custom boxing fee.

Last and usually least is USPS postage (shipping)

ATTENTION INTERNATIONAL BIDDERS!

We can ship certified live plants to the US only.

Only Domestic Shipping and Handling includes USDA Certification.

We ship Seeds Internationally.

All International shipments are at Buyer's Risk. Please spend no more more than you can lose!

Proper Permits and Documents are the BUYER's responsibility. Please request any documents prior to shipping.

For foreign customers, please check your laws concerning permitting and customs, additional shipping and handling costs may apply.

The additional charge for any Phytosanitary Certificate is not included in this offer.

INTERNATIONAL SHIPPING ON LIVE PLANTS is available only under these conditions!

All international orders are shipped at the BUYER's RISK (shipped with or without documents) and

no refunds or replacements are offered for Dead On Arrival, loss, confiscation, Customs Seizure, unanticipated charges, etc.
We will ship once a week - ON or BEFORE WEDNESDAYS, because of the special stamps needed to ship plants and cuttings to you. This can only be done at the Dept. of Agriculture. If payments are not met before that MONDAY, your items will be shipped the following week and lose the combined discount opportunity. Non-paying bidders may receive negative feedback and will be reported as an unpaid item to eBay.
After you purchase After you Receive your Items.
There is the risk when you grow plants that they may die. LIVE PLANTS are PERISHABLE, guaranteed not to live forever. DO NOT expect any live plant to be GUARANTEED to remain alive. Plants are NOT GUARANTEED TO SURVIVE after you begin Care!From delivery confirmation, you have only 48 hours from delivery confirmation to make any claim.
If you are dissatisfied with the item for any reason, please contact me before leaving a negative or neutral comment.

I want you to be satisfied!

Mahalo iâ `oe no ke kipa `ana mai. E kipa mai hou!
Rare Seeds
Fresh Highest Quality
Seller warrants seed to be of the variety and quantity advertised. Safe delivery is guaranteed and seeds lost or damaged during shipment will be replaced at seller's expense. Claims must be made within 7 days of shipment. All other replacements, refunds, returns and exchanges will be made at the sole discretion of the seller.

Seed is a live product which depends on many important related grower skills such as proper planting time, seed depth, type of soil, irrigation, proper use of fertilizers, weed controls, fungicides, insecticides, disease free soil, and reasonable weather conditions during the growing period. Germination is affected by such factors as temperature, moisture content, light intensity and contamination of planting media. These factors are totally out of the seller's control and are the buyer's responsibility and risk. Consequentially, the seller cannot unconditionally guarantee seed to perform properly regardless of conditions or the buyer's methods or mistakes.
Ma ha lo & A l o h a ! !
$19.99
Shipping Carriers
Destination: United States

Carrier
Method
Shipping Cost
Per additional Item
USPS
Priority Mail®
$15.96
$9.96
USPS
Express Mail®
$29.96
$15.96

Destination: Worldwide

Carrier
Method
Shipping Cost
Per additional Item
USPS
Priority Mail Intl®
$39.96
$15.96
USPS
Express Mail Intl®
$59.96
$19.96
Payment Method
Type
Instructions to Buyer
Paypal
null